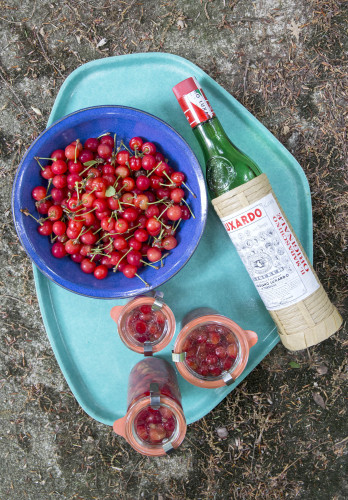 Ugg. Somewhere due east of remorse is regret. And I have it bad. But at least I didn't dawdle away the chance to make three fetching early summer flavorings in the aftermath. And I hope you don't dally either, if you have any of these in mind to make. Before I tell you what they are, here's my regret confession ….
This was at a yard sale last weekend and I did not bring it home.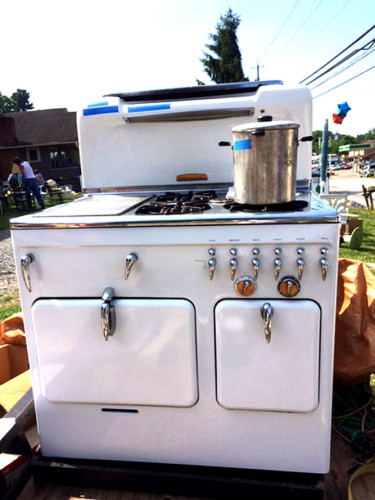 A 1953 Chambers gas stove in perfect working order to be had for a song. All I had to do was find some way to move the billion pound beauty in an hour, on a Saturday afternoon. Rather than gather my wits, I talked myself out of it because to take on this stove would have been like buying my first car: A 10 year old 1966 VW bug which came with a copy of this book, which I came to know all too well: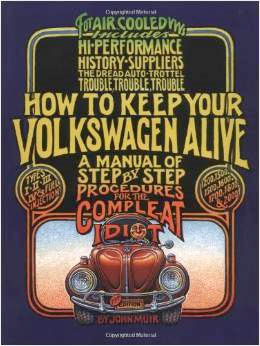 But now I'm sorry because I've been looking for a vintage stove like this for years and years. It's a trivial regret, to be sure. But to be a pussyfooter, which is a real word, by the way, is to be cautious in a "don't dance in the rain, you'll catch a cold" sort of a way. No thank you to that. Lesson learned, let's make Maraschino sour cherries.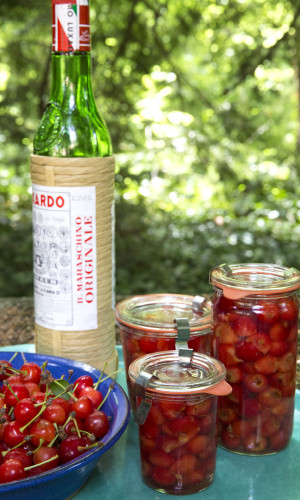 You'll need a bit of Luxardo Maraschino liqueur, a slightly bitter, sweetened cherry liqueur. Mind you, Luxardo = luxury = pricey. But at least it's a huge bottle for $35. Brandied cherries are wonderful as well. Anyway, pit fresh sour cherries such as Montmorency or whatever kind you can find at your local farm market and place them in a pretty jar. Warm up about a third of the amount of liqueur as you have cherries … don't boil, just warm. Pour over the cherries and refrigerate. If using brandy, dissolve sugar to taste to the warm brandy and add to the cherries.
Now on to #2: Garlic scapes.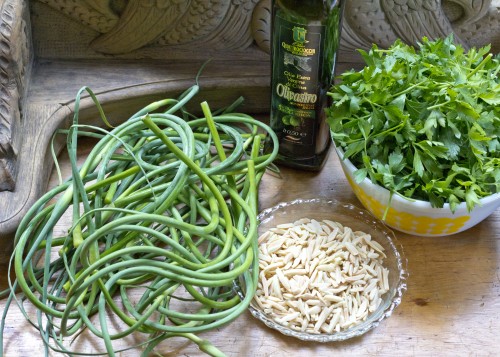 The little twisty seed stalks of hard-neck garlic are ready and available in your garden or at farm stands right NOW, depending on where you live. You have some time if you live in the North. You can read about garlic scape pesto here, but all you need to do is buy about 5 or 10 bunches of them (usually around $1.50 a bunch), if you don't grow your own, and just store them in the fridge in an open bag. They'll be good until August. They will change your life.
On to the most urgent of the three non-regrettable summer pantry items: Elderflower cordial.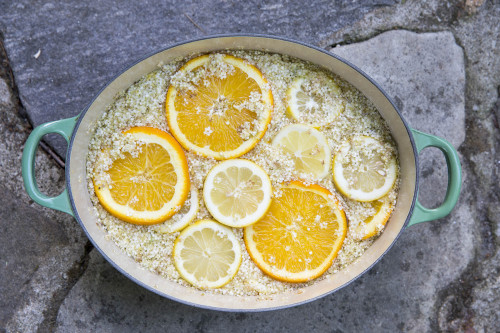 We planted two varieties of "bought" elderflowers which have just about finished blooming. York and Nova. And the native wild bushes are in flower TODAY here in Asheville.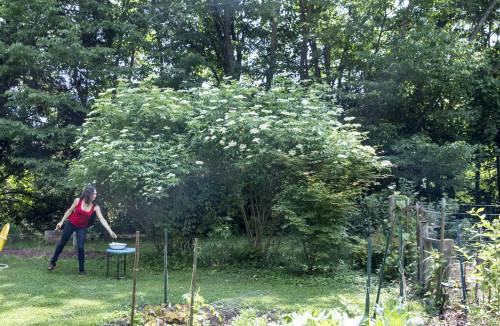 Elderflowers smell like happy. So sweet and seductive. The fragrance of the blossoms and of all they infuse is subtle, yet memorable and so fresh. Like that summer rain we're going to dance in.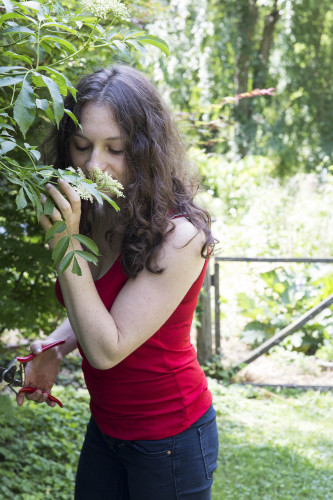 Pick the flower clusters just as they all open before the petals start to fall off. Thanks, Annie, for going for the high ones! Do you know that old saying …. "Reach for the high apples first, you can get the lower ones anytime!"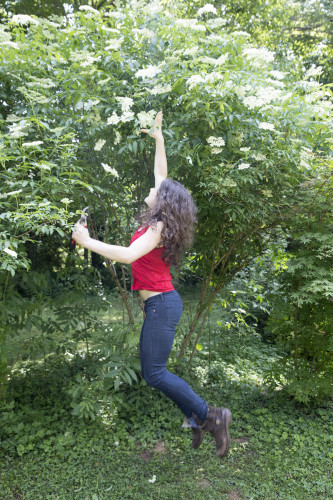 Pluck the flowers off with a fork straight away, the blossoms will not wait. All parts of the plant but the flowers and berries are toxic. So do as you're told, dear.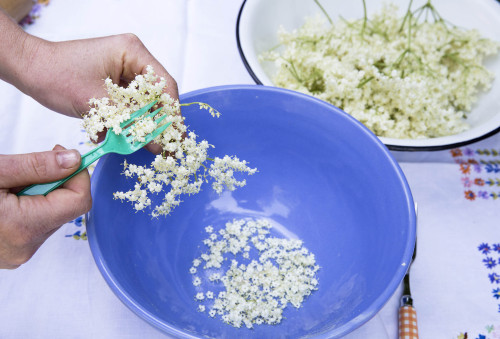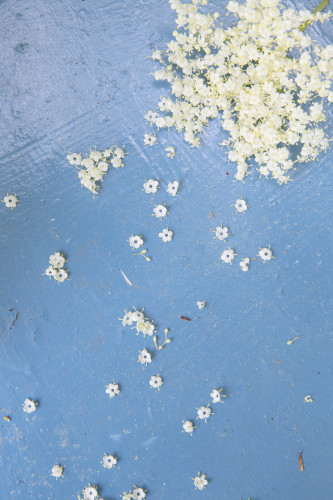 You can make a syrup out of the flowers, which will keep in the fridge a couple weeks, or you can freeze in ice cube trays. Store the cubes in jars. Into fizzy water, prosecco, or rhubarb mojitos they go, with a few fresh berries and mint. Here's a prosecco, elderflower cordial/strawberry ice cube, and maraschino cherry fizz. Maybe, just maybe … almost as good as a 1953 Chambers gas stove.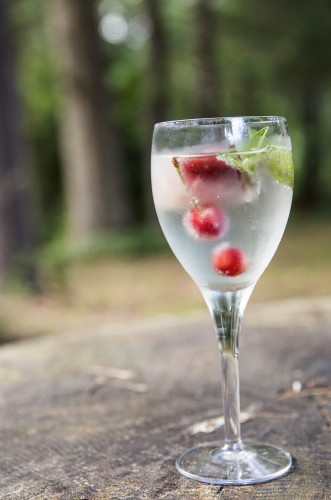 Or not. Cheers!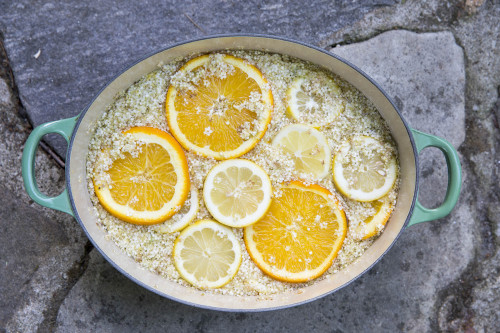 Elderflower Cordial
2014-06-12 16:22:16
Ingredients
15 heads of elderflowers, about 2 cups of blossoms
2 cups water
1/2 cup sugar for light syrup. Up to 2 cups sugar for heavier syrup.
One organic lemon, sliced (or 1/2 a lemon and 1/2 an orange)
1/2 tsp. citric acid (optional)
Instructions
First make absolutely positive that you have identified correctly your elderflower bush. Pluck off the blossoms of 15 freshly picked flower heads with a fork. You should have about 2 cups. Pick out any green stems while you prepare your sugar syrup. Boil water and sugar until sugar dissolves. Then add lemon and orange slices and citric acid if you're using it. (See note below.) Allow the syrup to cool a little. It should be warm but not super hot. Add the flowers and place all in very clean jar. Sit at room temperature for 24 hours and strain off flowers through cheesecloth. Store in a sterilized pint jar in the refrigerator for two weeks, or freeze to plop into summer beverages.
Notes
Most elderflower cordial recipes call for the use of citric acid. This will keep the cordial from going funky for about 4 weeks or so, but I'm not a fan of the taste of it. So I just freeze mine, sometimes with a strawberry in the middle. You can also make an alcoholic version by stuffing a jar with blossoms, filling with vodka, and then placing lemon slices over all. Strain after a few days or up to a week. Sweeten to taste with sugar syrup (two parts sugar dissolved in one part boiling water, then cooled).
Log Cabin Cooking https://logcabincooking.com/