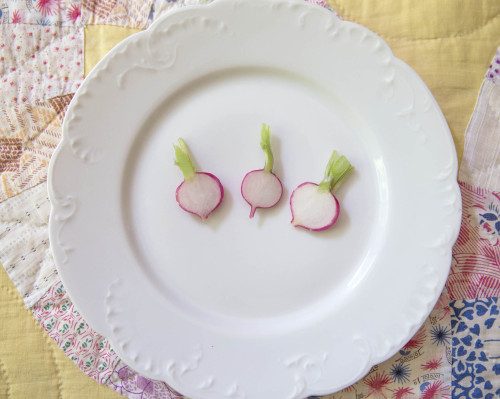 Are you playing with your vegetables again? I hope so. Otherwise, you'll have to explain yourself to these radishes in need of a hair-do.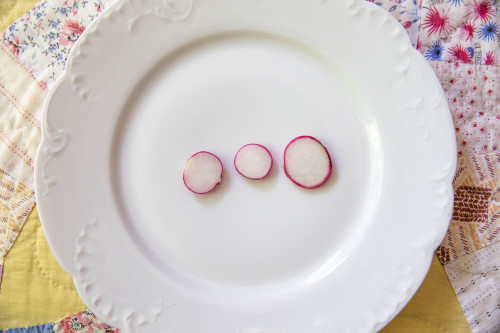 Fresh-plucked spring veggies are just so darn fun, all you have to do is get out of the way and let them party on your plate.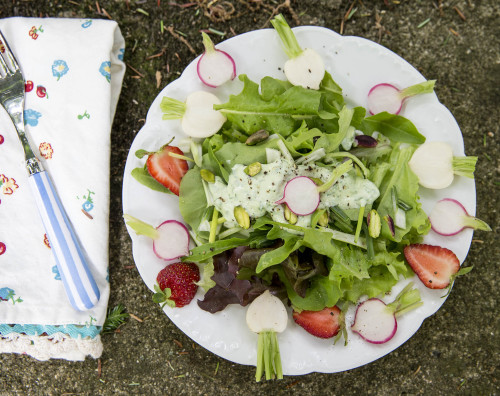 I just read a recipe that instructs: Split a vanilla bean in half, scrape out the seeds and discard the bean. WHAT???????? Are you crazy, at about $5 a bean, there are a gazillion things you can do with a eviscerated vanilla bean pod, the least of which is stick it in your sugar bowl until you can figure out how to use it. Anyway, I got to thinking about how people forget that the stems and leaves of garden-fresh beets, turnips, and radishes are edible and delicious. (Not strawberry leaves or stems. Don't eat them!) Carrot stems are edible but an acquired taste. Leaving a little bit of stem on your wee veggies makes them look like themselves too; so much more festive at the table.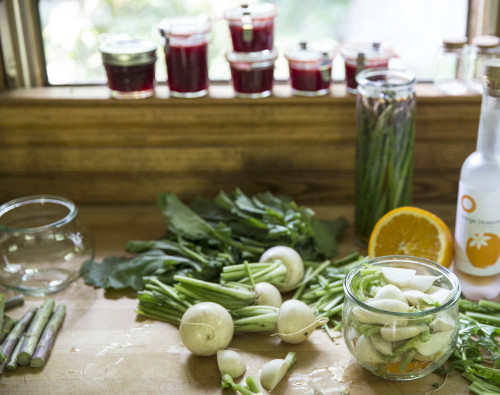 I'm in the pickle phase of my book, and out of all my recent trials, the turnip stems in homemade muscat wine vinegar is my favorite. The pickled turnip stem idea was not mine, it was Hugh Acheson's. The recipes in his new book are quite wonderful, even though you have to cut the dern book apart to be able to use it. I didn't photograph the stem pickles, because who knew they'd turn out to be the Cinderella pickle! Below are red onion and cardamom, asparagus spear, and baby turnip/orange pickles.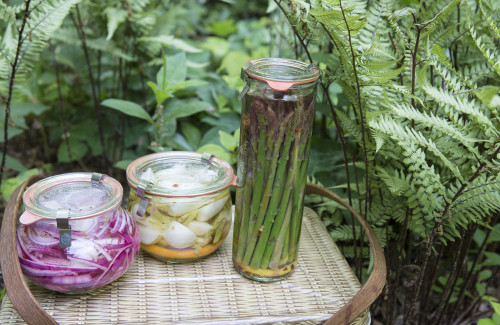 See that fern to the right of the asparagus pickles? Well, that's a strikingly beautiful Ghost fern which you can purchase anyplace that ferns are sold. This one is a piece of the original mamma of all Ghost ferns which spontaneously appeared in the garden of my very own mamma (and dad). Which is a sweet story for another time, but let me just say that I was just in Richmond VA, visiting my dad and the garden he and my mom created, which is actually more like a park. He tends it on his own now, and it is magnificent. As is my dad. Everywhere you look flanking the maze of antique brick pathways are native woodland plants loving collected, traded, and shared over a lifetime.
Which brings me back to spring offal salads that look like themselves … and this project waiting to be tackled in this forlorn forgotten corner of our yard: The abandoned concrete and stone picnic table from the 1940's when our stucco barn of an 1880 house was resurrected. See that slab of concrete on the ground to the right? That's one of the benches.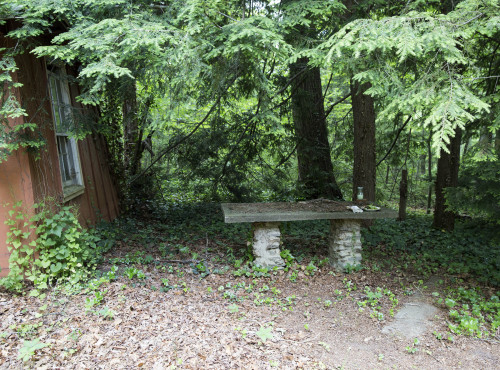 By the end of the summer, it will be sitting on stone pillars waiting for alfresco diners like you and me. The old red goat house that's now a facade will have to wait its turn.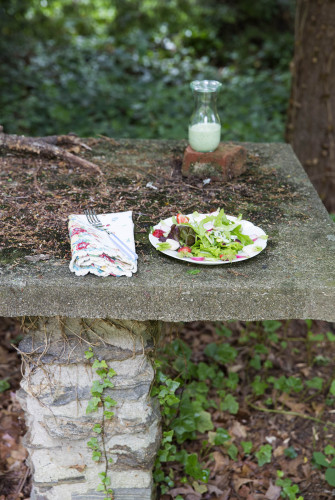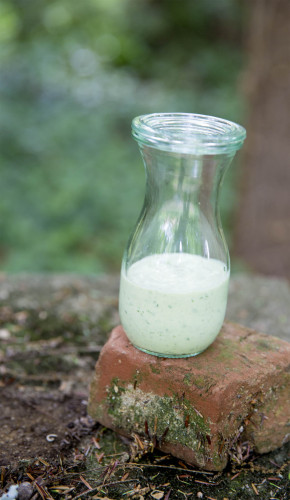 PS: "Offal" is technically something that is wasted, but these days, it's typically used to refer to animal innards like kidneys and livers, that are again a welcome guest at many a omnivorous table.
Baby root veggie offal salad with buttermilk herb dressing
2014-05-29 21:49:51
Ingredients
Fresh-picked baby salad greens
Baby turnips, carrots, beets, radishes
Strawberries if you have them
Pistachios or other nuts for crunch
Instructions
Tear the salad leaves and place in center of plate
Cut baby veggies in half, leaving a little of pointy root end and a bit of stem. Save turnip, beet, and radish greens for another meal. Place the veggies around the edge of the salad. Top salad with buttermilk/fresh herb dressing, and sprinkle with pistachios.
Buttermilk/herb dressing
Into your blender or food processor, place one cup good buttermilk, 2 Tbs. sour cream or greek yogurt, a smushed clove of garlic, a handful of fresh herbs (parsley, basil, tarragon, chives, green onion tops), half an avocado if you have one, a squirt of lemon juice and salt and pepper to taste. Blend until it looks the way you like. Can use as a dressing or a dip.
Log Cabin Cooking https://logcabincooking.com/