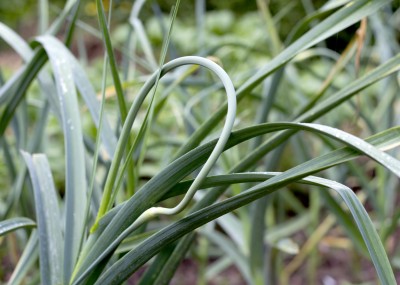 Glorious garlic scapes are everywhere and in about 22 seconds they will be gone until next June. I invite you to snap them, buy them, hoard them. They're the seed stalk of hardneck varieties of garlic. Most of the garlic you find in the grocery stores are softneck varieties, they don't scape. Honestly, I grow garlic more for the scapes than the garlic itself, they are just so darn fantastic.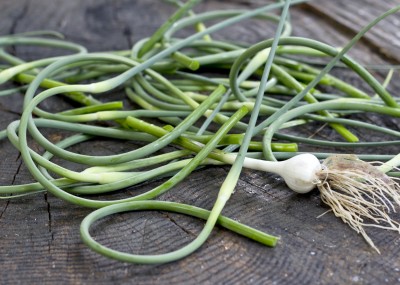 As they're growing, the garlic plant will produce this little stalk and when it's curled like a pig's tail, you snap it off. They're all over the place now in the local tailgate markets in bundles for $1.50-2.00 for about ten. Oh what a deal! They are the unsung heros of summer. And if they're grassy garlic flavor is not enough, they'll keep in your fridge clear through August. So buy about ten bunches now and figure out what to do with them later. (Store them in an open plastic bag in your hydrator.)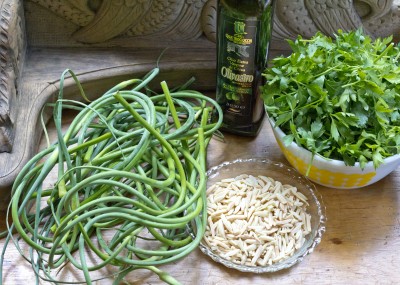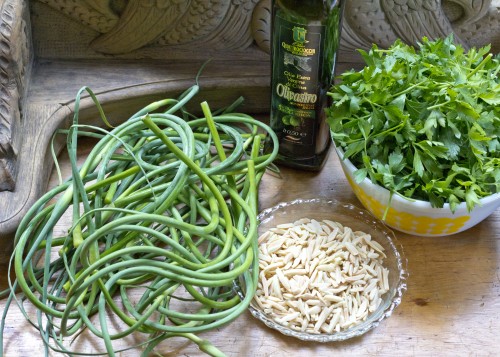 You can cut them up and add them to everything you make this summer and you can also make garlic scape pesto that you can store all the way through til next garlic scape season. That's what I'm going to show you how to do now. I'll give you the general idea in the recipe below and then you can run with it.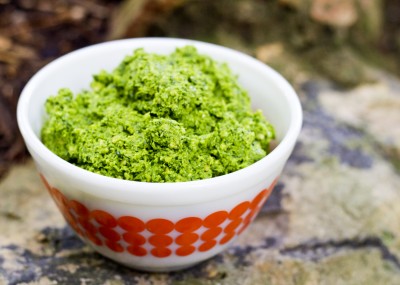 Oh, garlic scape pesto, you're singin' my song! It doesn't darken like basil pesto and it doesn't get all freezery either. I store it in little 4 oz. canning jars with nifty italian labels.
And, oh, by the way, speaking of Italy. I'm in Italy. Here.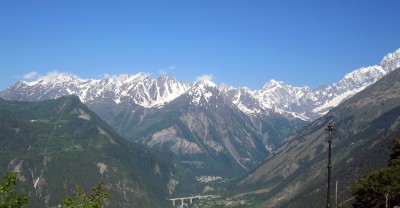 Our daughter, Annie, lives in Aosta in the northwestern Alps bordering France and Switzerland. We're on a mission to visit and photograph the ancient communal bread ovens of the region and also over the border in the Rhone-Alps region of France. More later on that. But for now …. garlic scape pesto because you have to go to the market and start hoarding them!
Toasted Almond Garlic Scape Pesto
One bunch (about 10) garlic scapes, cut into inch pieces
One bunch flat leaf parsley, washed and trimmed of stems
A handful of toasted almonds (blanched)
A squirt of fresh lime juice
A glug of good olive oil
Give this all a good whirl in your food processor, adding just enough olive oil to achieve a paste consistency. Store in little 4 oz. canning jars in the freezer, they'll stay good for a year. Use anyplace where garlic would normally show up in your life. But also crumble onto cooked white beans, spread on
Pizza, bruschetta, tuck into your stuffed squash blossoms, use as a marinade for your summer grilling of meat and veggies. Well just any old where.