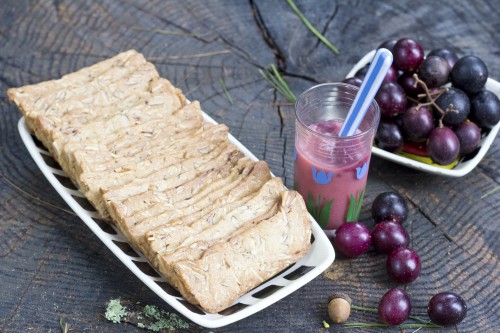 If you need someone to make an almond cookie-henge dessert for your next fancy fundraising event for 85 people, then I'm your guy.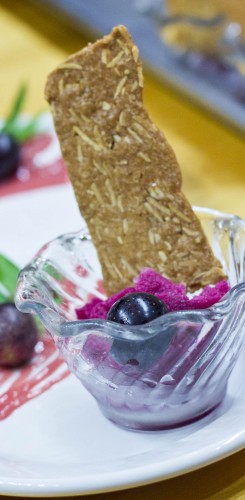 On its best day, my food is rustic and one wonders how the heck I wound up doing dessert for the John C. Campbell Folk School fundraising dinner last weekend. I'll spare you the gory details except to say that our native muscadine grapes make a vibrant and delicious sorbet. And, evidently, if you have a really good cookie to poke into the midst of it, then you can get away with just about anything. (Especially when dessert follows at least 45 courses of really lovely food and plenty of wine.) Anyway, I had so many requests for the cookie recipe, I thought I'd go ahead and include it here. Especially since it's not my recipe. It from David Lebovitz's popular blog, with my grubby fingerprints all over it.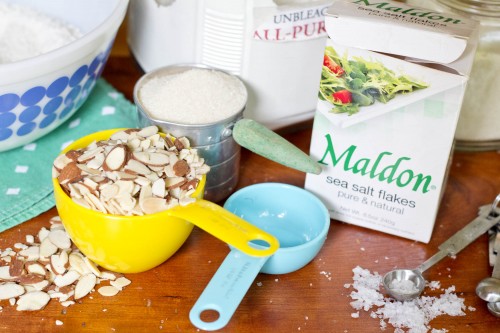 The recipe is obscenely simple. You'll need butter, sugar, almonds, salt, soda and flour. And cinnamon if you like. And a bread pan.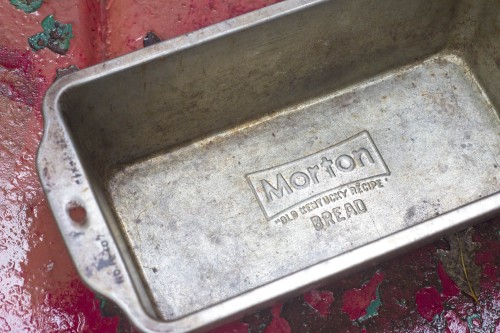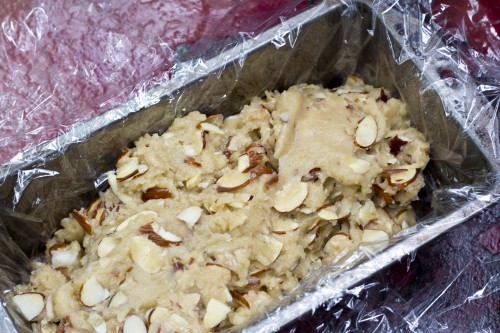 Mix the dough so that it looks like this and then press it into the bread pan that's been lined with plastic wrap.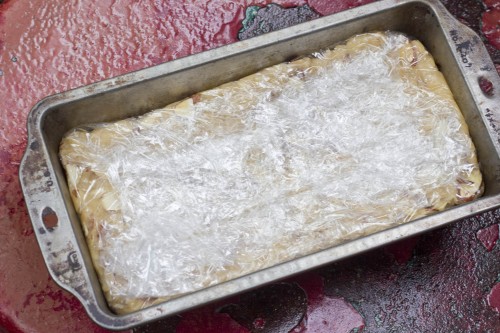 Wrap up the dough and stick the whole deal in the freezer.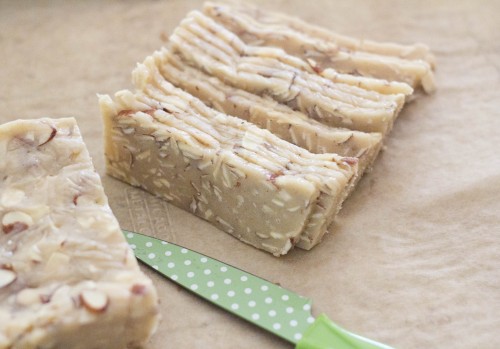 Then slice the cookies thin as you can. I can get about 50 cookies but David Lebovitz gets about 90 because he sharpens his knives on a regular basis and I do not. (Use a large thin-bladed knife.) My version is not very sweet, and, at the suggestion of Tony Pisconeri who made many marvelous dishes at the Folk School fundraiser last weekend, I paired it with cheese for lunch today, and woo hoo! I'll be making almond cookie cheese-henge for my next gathering. Speaking of gatherings, do check out the John Campbell Folk School. I'll be there next week making jams with my friend Nanette Davidson. We'll definitely talk jam shortly.
Pain d'amande or Almond cookies adapted from David Lebovitz who adapted it from Flo Braker
1 stick butter (salted or unsalted)
1 1/4 cup raw sugar (needs to be a more coarse sugar than white) Use 1 cup if pairing with cheese 1 1/3 cup if you like sweet cookies.
1/3 cup water
2 1/3 cups (325g) flour (enough flour to make a dough the consistency of chocolate chip cookies)
1/4 teaspoon baking soda
1/4 teaspoon ground cinnamon
Generous 1/4 tsp. coarse salt, like Maldon. Crunching into a flake of salt is exciting. Kosher will do in a pinch.
1 1/4 cup sliced and lightly toasted almonds, blanched or unblanched.
Melt the butter in a saucepan over low heat. Turn off the heat and add the water and sugar and stir but don't let the sugar melt. In a separate bowl, mix the flour, soda, salt and cinnamon. Toast the almonds lightly and add to the flour mixture. Pour the butter mixture into the flour and stir well. Pat dough into a plastic wrap-lined bread pan, cover and freeze until solid. Slice and place cookies on parchment-lined cookie sheet. And I mean line that cookie sheet with parchment paper or you will be sorry! Especially if you've sliced your cookies nice and thin-like. Bake at 325 until they are a medium light-brown color. To keep the crunch alive, place the cookies in an airtight container the minute they cool.