Your daddy is a butcher
Your mama sells the meat
And you're the little weenie who runs about the street …
So much for my summer goal of being a more well-behaved writer/cooking instructor/etc. This upcoming Sort-of Appalachian Supper cooking class involves local moonshine.
And that reminds me that I need to share a few sayin's from my good friend Johnnie Otto pictured above (left) on the porch of her Tennessee mountain cabin in about 1918. She wasn't a moonshiner, mind you, but she was a hoot. Johnnie was born in 1913 in the Sugarlands section of what's now the Great Smoky Mountains national park. When the government bought the land from mountain farmers in the 1930s, their hand-hewn cabins sat abandoned and forlorn as their owners made a life for themselves elsewhere. Fortunately, Johnnie Cole Otto's family cabin was re-located to the Roaring Fork motor trail near Gatlinburg, TN, where visitors can get a glimpse of what life was like not so long ago with parents, grandparents, and 11 or so kids sharing a life in a one or two-room cabin here in these southern Appalachian mountains.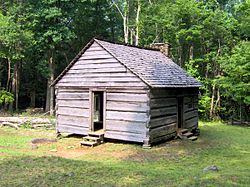 Frank Otto, a civil engineer from Chicago, won Johnnie's heart (over about a 10 year period!) in the 1940s, and whisked her away to live in a nice suburban home with plumbing, electricity, and three bedrooms in Arlington, VA. They had three kids, one of whom is my good friend, Marti, who introduced me to her mountain mom in the 1970's. Johnnie taught me how to make fantastic biscuits, cornfield beans and blue ribbon county fair pickles. All the while spouting sayin's like these:
A good cook don't leave the kitchen.
Pull the biscuits out of the oven after everyone's at the table and say, "Have a hot 'en!"
(When you have your hands covered in biscuit dough, she'd say …) You've got to get out of this mess the same way you got into it!
But I most cherished her less well-behaved sayin's like:
That 'ed puke a hound dog off a gut-wagon!
and my all-time favorite ….... Simmer down, you're like a fart in a hot skillet!!!
Johnnie passed away about ten years ago and I miss her so. If she were here today, I'd tell her:
I love you little
I love you big
I love you like a little pig!
PS Rhymes are from a 1930's autograph book.