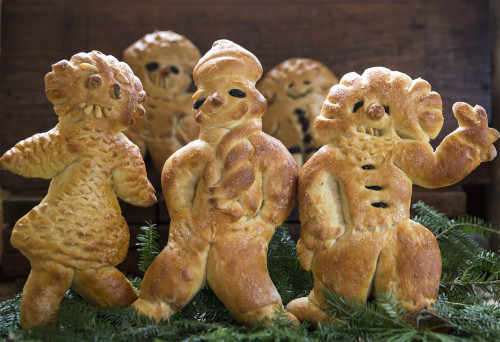 It's beatnik Santa bread time. What started out two years ago as a wholesome gathering of friends just celebrating the German tradition of making St. Nicholas Day breads, has turned into an annual holiday doughboy mutiny.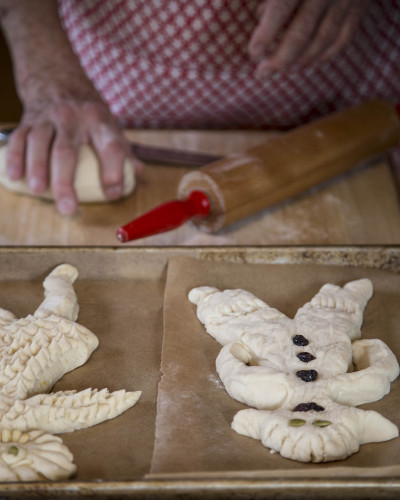 While we appreciate the European custom of making Santa-shaped sweet breads that are gifted to children to pay tribute to the good deeds of Bishop Nicholas some 700 years ago, somehow the dough just takes on a life of its own. And the breads end up looking like mermaids, chickens, crazed angels and goofy children … no disrespect intended! They're supposed to look sort of like this: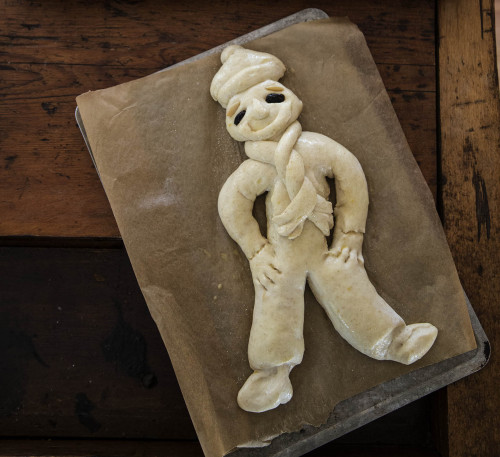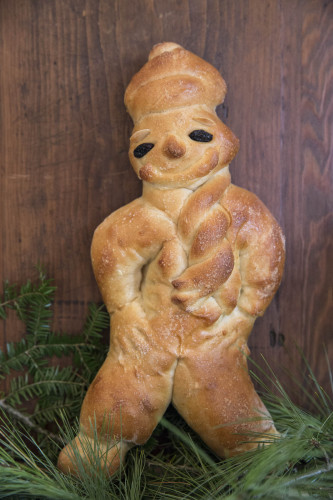 But, you see, there are raisins and nuts and seeds that are meant to be used for buttons and such.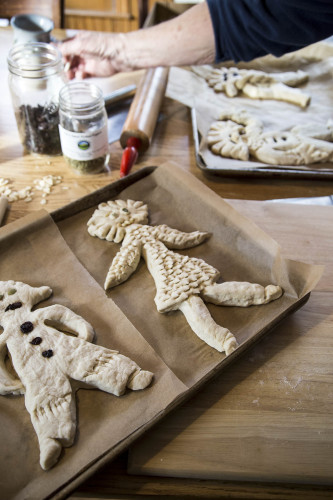 The nuts, they just look so much like teeth, and so this happens: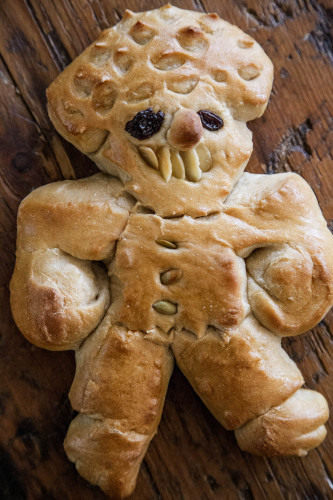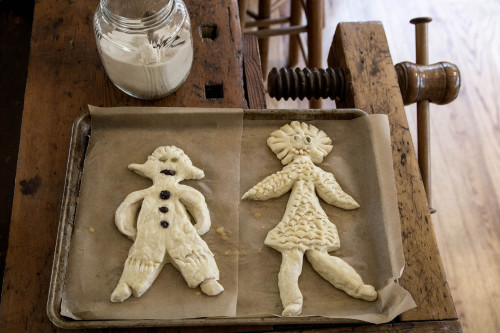 So, as usual, before you know it, it's a full-out silly fest.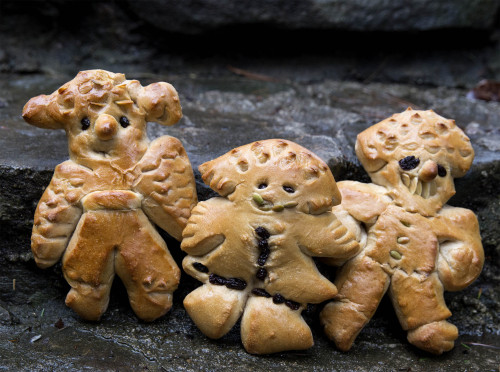 Anyway, here's how to make them. This site has information about St. Nicholas and lots of great recipes for different versions of the breads.
And, they make fabulous gifts to friends. They're also fun to munch on while opening presents on Christmas morning.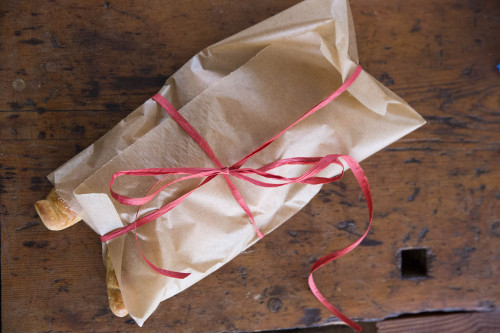 Who wouldn't want a present with feet. Really.
St. Nicholas Holiday Breads
The recipe from my blog post from two years ago works just fine and makes a sturdy bread. But I just can't help but offer you this new and improved super delicious version using a preferment inspired by the recipes in my Aunt Barb's Bread Book.
Overnight sponge: About 12 hours before you want to mix your bread, stir together 1/2 cup water and 1 scant cup (120 grams) flour, and a tiny pinch of instant yeast. Stir, cover with plastic wrap or an air-tight lid and leave it on the counter at room temperature. When it's ready, it will look like this.
Dough: Into a mixing bowl, place your risen sponge, and add to it:
1 1/2 cups milk
Stir the sponge and milk up real good and add:
2 cups of unbleached all-purpose flour (you can use a little whole wheat for character)
1 tsp. instant yeast
4 Tablespoons very soft unsalted butter
1/2 cup sugar
zest of a lemon or two
2 teaspoons salt
Mix well. Now add just enough unbleached all purpose flour to make a soft dough that you can knead. Including the cup of flour in the sponge, you'll need a total of about 4 to 5 cups flour, depending on how lightly you pack your cup. I don't measure, sorry. (Except in my bread book, I do have measurements.) Let the dough rest about 20 minutes before kneading. If you have a stand mixer, you will knead the dough about 5 minutes and you want enough flour that the dough leaves the sides and just barely, the bottom of the bowl. Unlike most artisan breads, this is not a wet dough because we need the irreverant Santas to hold their shapes.If kneading by hand, very lightly dust your board, and knead maybe 7 minutes or so, until your dough is smooth and soft and still a bit tacky. There's an art to adding the right amount of flour. (If my directions are too unprecise for you, an sweet-roll recipe with a little lemon zest added will work just dandy.)
At this point, you can either let the dough rise for about 5 hours or refrigerate and make up to three days later. Form the risen dough into three portions, form into balls and let rest covered with a towel for 15 minutes, then proceed as in this blog post.
PS A challah dough also makes good Santa breads, but I don't use egg doughs when making the breads with kids. (raw eggs)