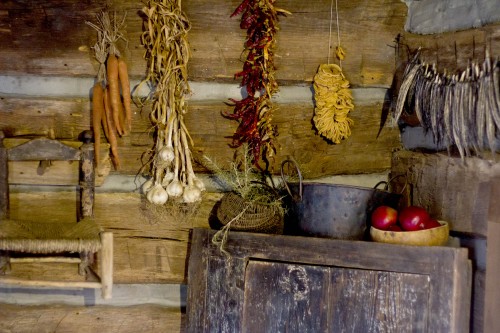 It was 47 degrees in our bedroom this morning. And not much less than that outside. Our bedroom is in the uninsulated 1880 part of our house which we don't even bother to heat. We just pile on the quilts and snuggle down. Our sleeping arrangements aren't much different that those who inhabited the gazillion and one log cabins that have been lovingly rescued and restored at Hart Square in Hickory NC, where we visited last Saturday. If you are a fan of NC pioneer heritage, then this is the place/book for you.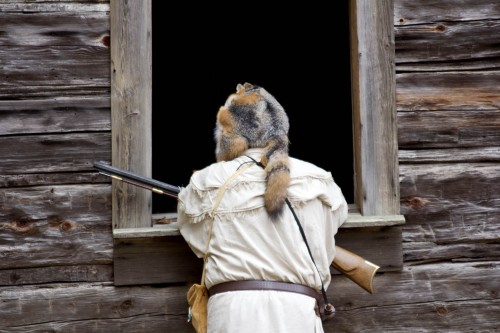 The short version of the story is that Bob Hart, a retired family physician in Hickory, NC has been rescuing and restoring antique log structures within a 25 mile radius of his 200 acre farm for the last 40 or so years. With 80-some-odd buildings or more at present (he's not done), this is the largest collection of authentic historic log buildings in the US. The village hosts groups and events throughout the year, but it is open to the public for a living history extravaganza the fourth saturday in October and you better get your ticket quick because they sell out in about 30 seconds.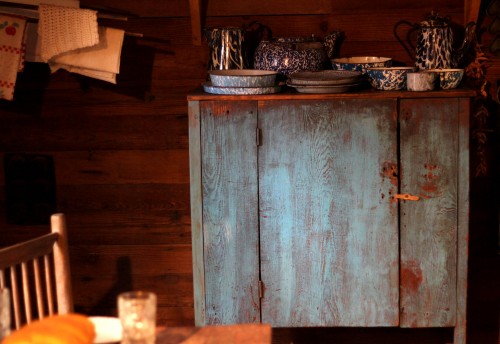 Not only are the log buildings themselves shocking (we're talking homes, school, post office, tavern, chapels, covered bridge, smokehouses, general store, millinery, pottery, on and on and on), the innards are packed with period primitives that will leave you quivering, if you like that sort of thing, that is, and you know who you are. I once heard a rumor that when Bob Hart went to an auction, nobody had the "heart" to bid against him, and that might be true from the looks of his collection of hand-hewn furnishings that you just don't see anymore. Hardly.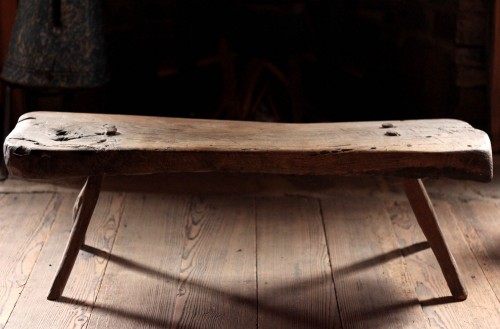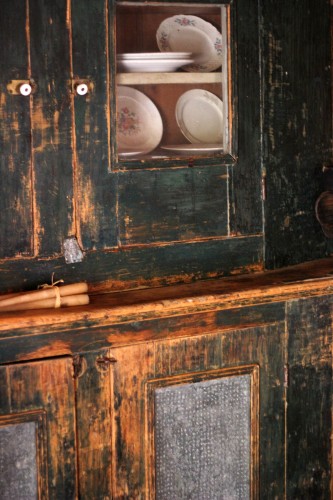 I'm not a good enough photographer to do these beauties justice, but you get the idea. Last weekend, at the annual Hart Square day, there were 200 craftspeople doing their trade in period dress posted at each of the buildings and hither and yon. Some of the cabins were hosted by those who told the story of their relatives who onced lived in and built the structures.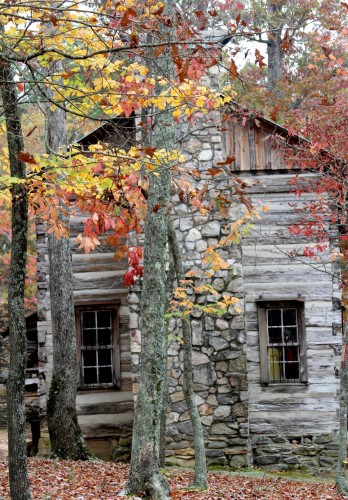 Others shared their various crafts that had been handed down in their families, such as sauerkraut-making and food-drying.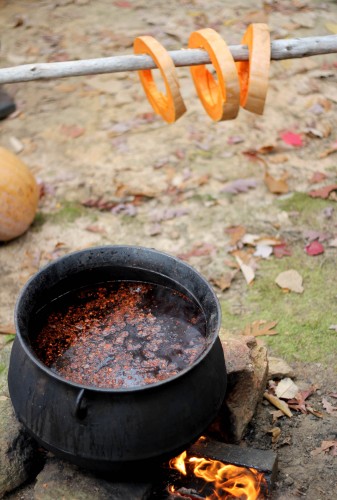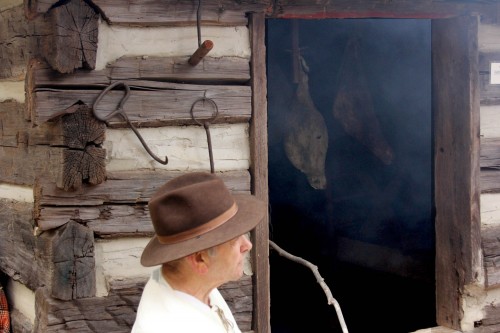 This man has been smoking his own hams all his life in a smokehouse like this one.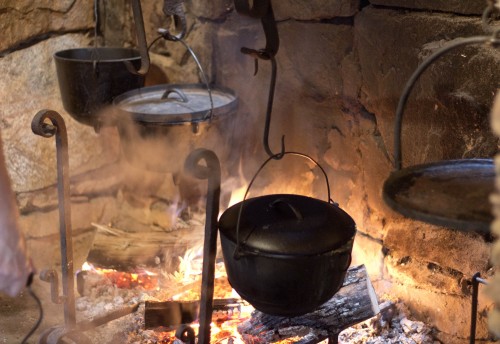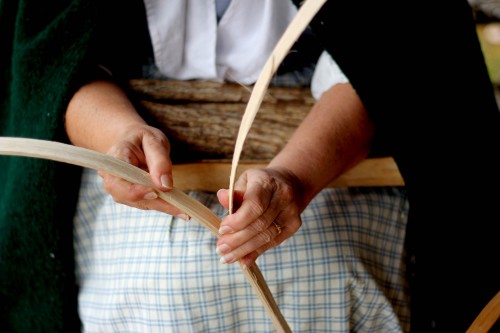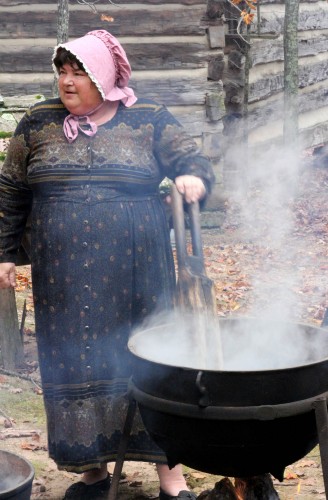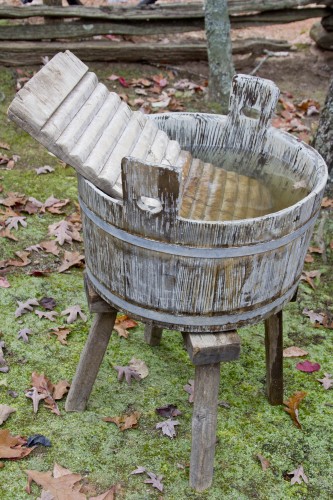 There's a Native American bark hut settlement.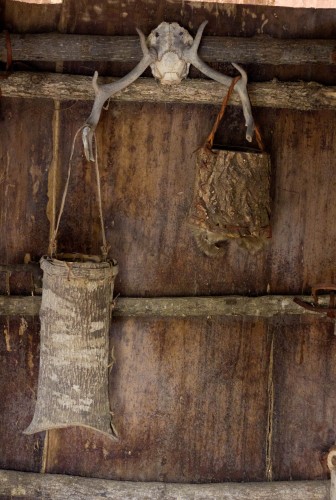 This is on my bucket list to make … bark baskets hanging on an antler hook!!!!!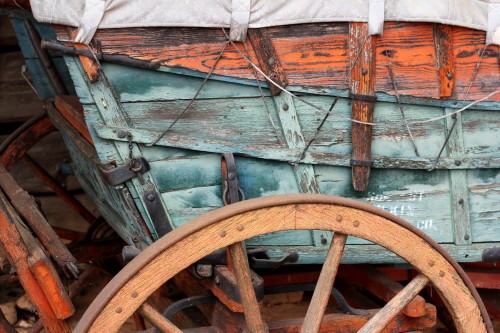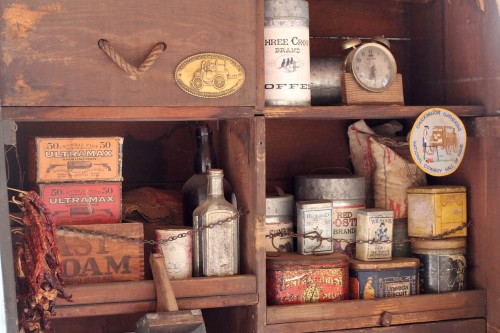 A real-life chuck wagon.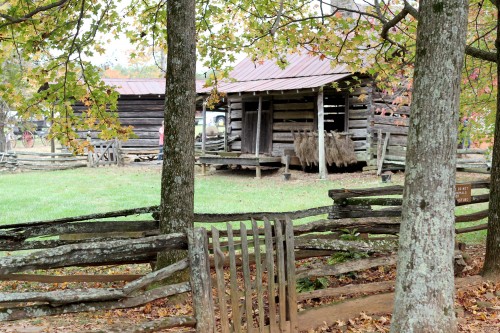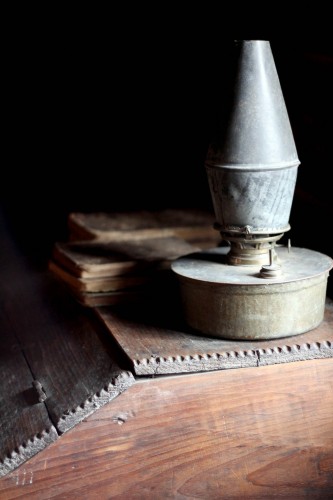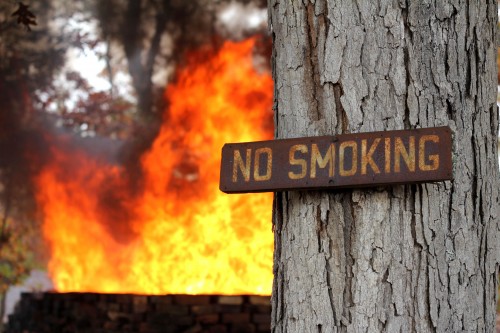 They're firing pots in this raging inferno of a fire.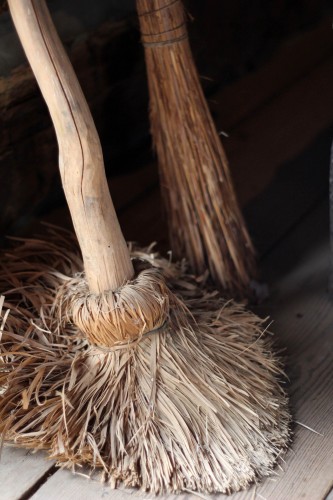 Well, you get the idea. I spent lots of time with an amazing sauerkraut-making grandmother and the sorghum syrup (molasses) folks and I'll share these seasonal activities shortly along with some tasty recipes.