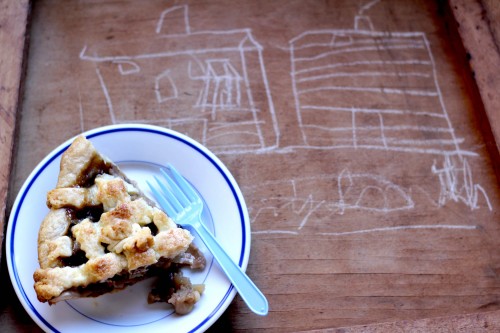 If you were a kid and you went to my grandmother, Maudie's house in Salem, WV in the 1960s, you'd spend a fair amount of time on your back, on the floor, admiring the under-the-chair art gallery in her "front" room. You wouldn't have a piece of pie with you, but there's a good chance that you'd just eaten a slice of apple pie. My Uncle Sonny (Emery) never would tell me the story of why in the heck he drew under the seats of the extra dining room chairs in about 1931. Did he get in trouble? I will never know. Probably not. Anyway, when my grandmother passed away, this particular chair is the only thing of hers I really wanted. The chair wasn't sturdy enough to stand up to our twins, but I saved the seat bottom and it hangs mischieviously on our wall. That's the kind of art we have.
Oh yea, there's a bit of a pie plate emergency discussion I wanted to have with you real quick before the holidays. It turns out that I'm an official pie lady. And, as such, I have strong opinions about pie plates.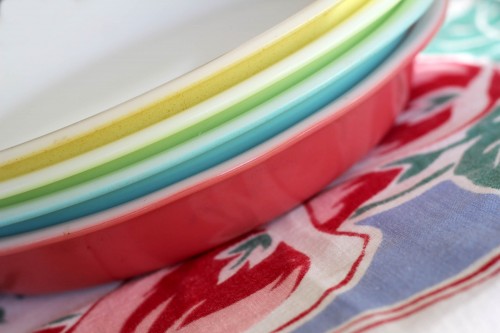 If you go shopping for glass pie plates now, you'll most likely find the clear pyrex 9-inch deep dish pie plate with ridges. You cannot make a normal regular-people pie in this pie plate. It's big-a-fied and what'll you'll likely get is overcooked crust and undercooked starchy innards. These colorful 1950s shallow 9-inch pie plates, pictured above, are my personal favorites because I can match my pie filling to the pie plate. Especially important with a lattice crust, don't you know. I'll bake one pumpkin pie in the yellow dish, and one in the green one on Thursday for Thanksgiving. These hold about half as much filling as a deep dish pie and that's a good thing.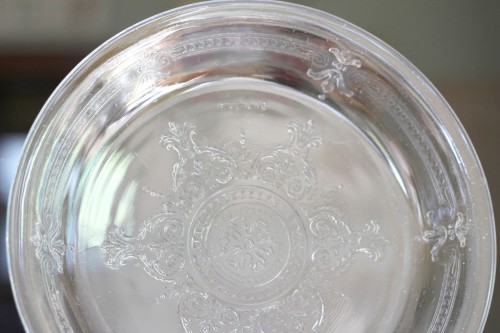 But this is actually a better pie plate for a pumpkin pie. The problem with pumpkin pie is that the guts want to bake at 350 and the crust wants to bake at 400. So the trick to not having a soggy bottomed pumpkin custard pie, is to stick it in the oven on the bottom rack (if gas oven), or next to the bottom rack (electric oven) in a hot 425 oven for about 12 minutes and then turn the oven to 350 and continue to bake. A clear plate lets you look at how the bottom of your crust is faring.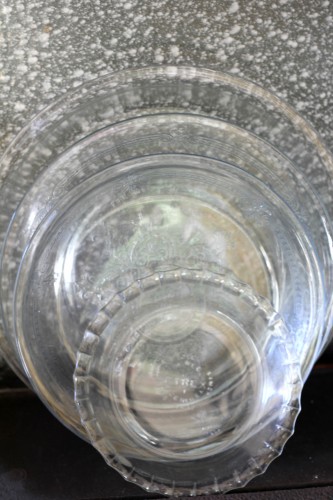 If you spend much time reading old cookbooks like I do, you'll wonder how Americans kept a trim waistline while eating pie about every day in the 1930s and 40s. Especially in rural areas. This may be true, but they were baking their pies in 8 inch pie plates and sharing those pies between 6 or 8 people. And they walked wherever they were going, and probably spent a fair amount of time tending their farms/gardens/animals.
If you look at these pie plates lined up, you'll see at the bottom a 6-inch pyrex pie plate, then an 8-inch Fire King, and then a 9-inch Fire King, and then a 10-inch very shallow pyrex for those big families. I adore vintage pie plates like these and they're easy to find at yard sales and antique booths for under $10. The Fire King Sapphire Blue Philbe was made from the early 40s through the mid 50s and these clear pyrex plates are from the 1950s I'm guessing.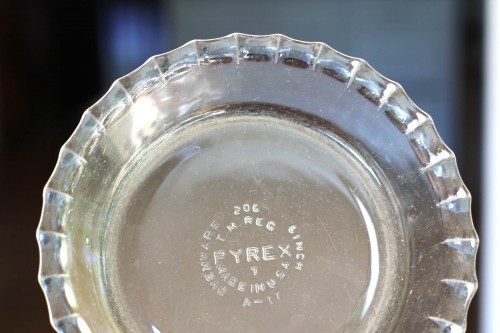 When my sisters and I were kids, my mom would make a regular sized pie for the family, and then she'd make one of these little 6-inch pies for the three little girls to share at their tea party. She gave me the little pie plate and since then, I have amassed/hoarded about 15 more because they are perfect for pie-making classes. They behave just like real pie plates, but I can fit lots of them in the oven at once, the pies cook quickly and then the pies slip out like butter when they are fully baked so they can be taken home by students.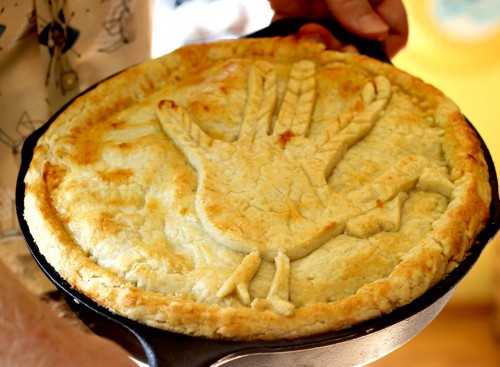 Happy Thanksgiving!