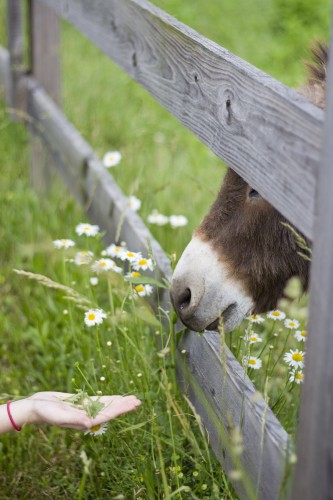 I used to have a donkey named Rhubarb Butter. Just kidding. I had a donkey named Donk. And a pig named Gip (that would be pig spelled backwards). I was young and too busy to think of good animal names. I take that back, I had cats named Fescue and Newton. Anyway, back to rhubarb butter. Bake or simmer down your rhubarb until it's concentrated and your life will be transformed. Use it in gelato, ice cream, add to your pies to boost flavor, or just use it as a pie pop filling. Make yogurt parfaits, baste your chicken with it …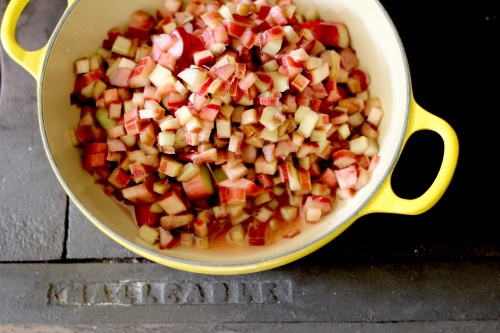 Just like in the last post, you'll cut up as much rhubarb as you have and sprinkle it with about 1/4 cup sugar per pound of vegetable (rhubarb is a vegetable). Or less. Or more. Let that sit overnight in the fridge, and when you get to it, place it all in a pot. The pot is important because rhubarb is acidic and you cannot cook it in aluminum or unfinished cast iron. The radiant heat produced by an enameled cast iron pot is ideal because you'll cook it on your lowest flame for about 3 or 4 hours. Stir it occasionally at first, and often after it thickens or it will burn and you will cry. You can also try roasting it in a slow oven on a cookie sheet. I haven't tried it but it might work.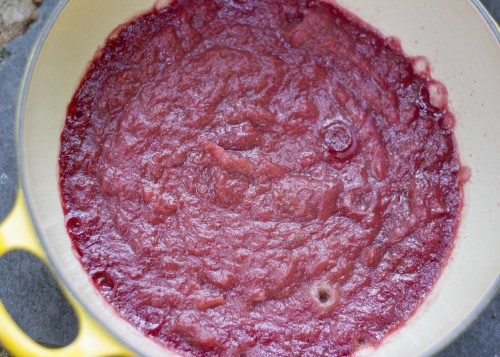 It's going to be thick and beautiful when it's done. Now, it will keep in the fridge a week or so. No matter what, do NOT try to can it like I did.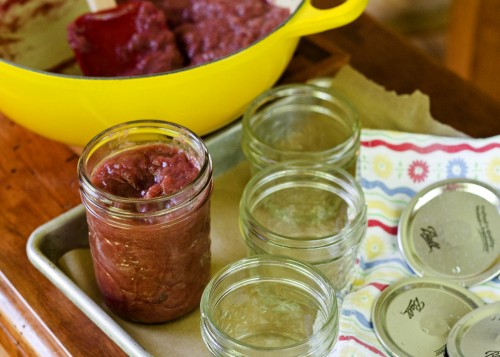 Those three little jars broke in the boiling water bath because I couldn't get all the bubbles out of the super-thick sauce. I cried. That's what I get for not taking physics classes. Is that physics? Two thirds of my kids are physicists; I'm glad they weren't here to see the bursting jar show! As I was saying … just put your rhubarb butter in little 4 oz. jelly jars, with room for expansion, and freeze them for later. Or now.