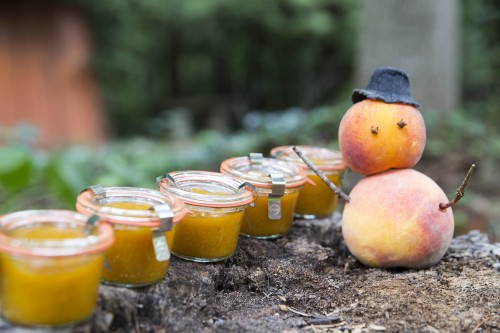 It's a fine day for a walk in the woods with Mrs. Roasted Peach Butter and her five little "offspring." Sweet late summer peaches are abundant here in the south, from giant to little and everything in between. They're ripening on counters, and not-ripening in the fridge and I thought I'd just gather a smattering of varieties and turn them into a fragrant low-added-sugar peach butter spread. Starting with 3 pounds of peaches, I added 1/2 cup sugar (about 100 grams) and juice of a couple lemons. The peaches were so sweet on their own, the modest amount of additional sugar just took over. Bleg. So I took out the stick blender, gave the hot mess a beating and then poured it into a big glass pan to bake in the oven. For an hour at 250º.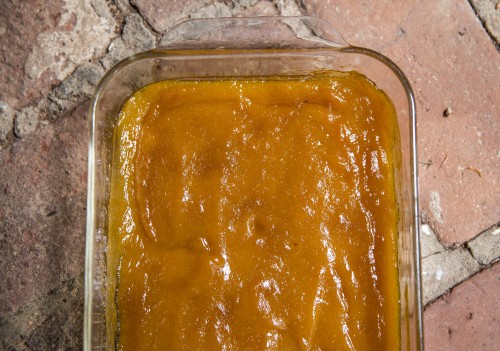 Which turned into about three hours because I was playing with okra pickles … recipe testing for the picnic book at hand.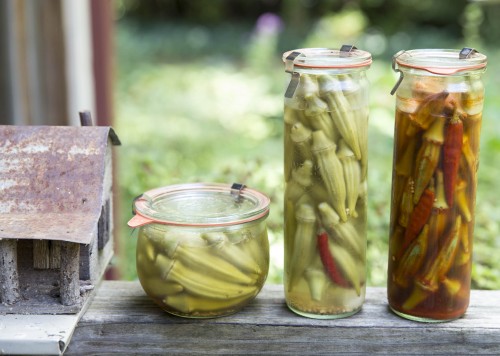 Okra freaks me out, but okra pickles are so good and slimless enough once they sit for a couple weeks. The super tall Weck asparagus jars make for some gorgeous smoky-okry and garlic dill okra pickles.
Anyway, the "forgotten" roasted peach butter was so so SO much improved, that I'm going to forget it from now on. The color is deep and seductive and the flavor is frankly, stunning. It's too good to eat with anything other than a little espresso spoon. There was just enough for 7 three-ounce Weck jam jars. So I promptly ate one and a half and water-bath processed the other five.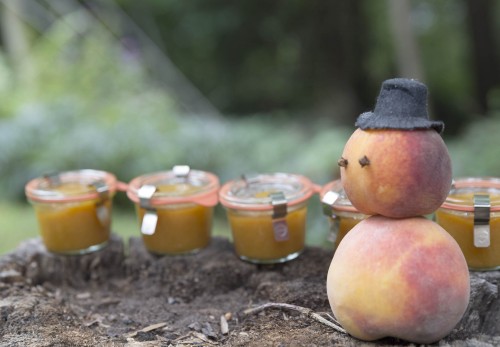 Good thing Mama peach is guarding her babies!
Roasted Peach Butter
2014-09-02 16:04:06
Ingredients
3 lbs. peaches
1/2 cup (about 100 grams) white sugar
Juice of 2 lemons
Instructions
Peel peaches by giving them a 30 second bath in boiling water. The skins will slip right off. Remove & compost the pit and chop the flesh. Place in a saucepan with 1/2 cup sugar and the juice of 2 lemons* Simmer the fruit on low heat for about 30 minutes, or until the fruit starts to fall apart. Give the hot pulp a toss with a stick blender, food processor or blender. Oh do be careful with splattering! Some like their fruit butters super smooth, but I prefer mine with some texture. You decide for yourself. Pour the fruit batter into a glass baking pan and bake at 250º for three hours or until it cooks down to a deep golden hue. It's ready whenever you think it is. Water-bath can according to recommendations of folks like those at the National Center for Home Preservation. http://nchfp.uga.edu/publications/publications_usda.html Or, just get out a little sugar spoon and go to town.
Notes
If using organic lemons for the juice, be sure to zest them first. Citrus zest keeps perfectly in a small glass jar in your freezer for later use.
Log Cabin Cooking https://logcabincooking.com/