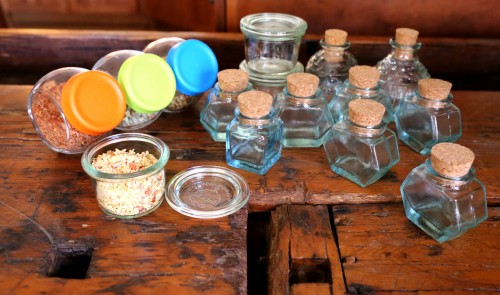 When my husband, Wayne, was 15 and had been playing guitar for, oh, about 6 months, he decided to share his freshly acquired skills in the form of a class held in his parent's living room. He plastered nearby UCLA with signs saying "Be popular, play the guitar" and somehow managed to attract a large gathering of folks of all ages with visions of becoming 1960s hootenanny rock stars. Who knows if the students made good on their intentions, but I do happen to know that Wayne sure made a great life out of playing and teaching guitar (plus banjo, fiddle, mandolin).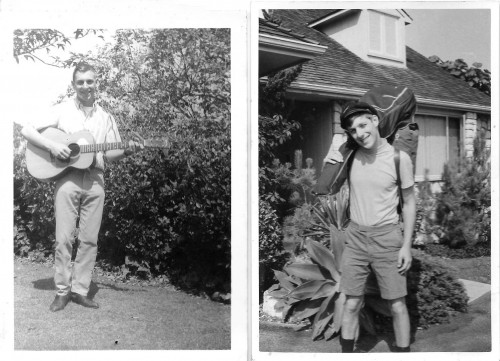 So if you have a hankering to be a culinary hootenanny rock star among your family and friends this holiday season, I recommend making a couple of these garlic salt blends and packaging them in nifty little jars to give as gifts. They're so easy and fun to make. I invited a few girlfriends over for a fall garlic salt-making crafty party last month, and everyone brought fresh herbs from their gardens to add to the salt blends. It looks like a lot is going on in these photos, but really … you just chop up a few ingredients, dry on a cookie sheet and you end up with simple fragrant salts that will change your life.
Today, we'll make 4 salts. Use them in place of salt to liven your food, here are some suggestions:
Ginger/lemon garlic salt … Sprinkle on kale, tofu, anything carrot, salad dressings, adds a fresh zippy flavor

Smoky garlic salt … Pork or chicken, beans oh so wonderful with beans, cream of potato soup, everything.

Celery and herb garlic salt … I use this in any soup or dish that includes celery. LOVES eggs. Deviled, fried, scrambled.

Tuscan style garlic salt … Soups, baked potatoes, roasted veg of all sorts, fresh peas, sauteed carrots, corn on the cobb, etc.
Feel free to get creative with your own blends, but you'll need to keep the salt to garlic ratio the same. First, let's talk salt and garlic.
I'm not a salt expert by any stretch, but I recommend you use a crunchy salt to make these blends. I suppose you could use Kosher salt, but I usually use Maldon salts (both regular and smoked) which are readily available in Whole Foods type markets and online (about $5 a box). Salt is big business and you can find all kinds online, but I don't think I'd use a super fancy variety because the texture and taste will be lost when combined with all these other flavors. A clean crunch is what you want. If you splurge, let it be for the smoked salts. I've been meaning to try this one from LA. Okay, now for garlic. I grow the red Russian type of hardneck garlic because I love its medium spicy flavor and big cloves. It starts to sprout come January, so December is perfect timing to use it before it fades. The better your garlic the better your salt, so see if you can find something interesting, if possible. If not any fresh garlic will do.
RATIO of GARLIC to SALT: One medium clove to one tablespoon of big flaked, crunchy salt. If using Kosher salt, you can use one large clove to one tablespoon of salt … or two small. You get the idea …
To make each salt, you start by chopping the salt and the garlic together until they're medium dice. Then you add the other ingredients and you just chop until everything is way fine. Don't be in a hurry, enjoy the fragrances!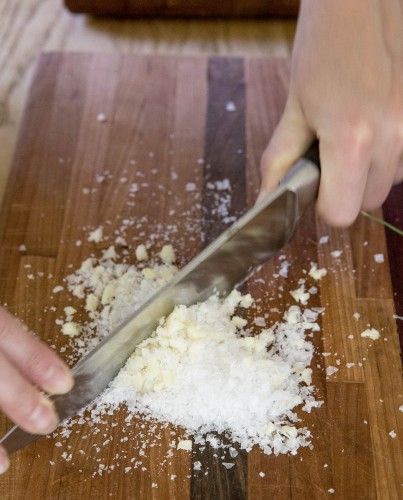 First up is ginger garlic salt. Fresh ginger, garlic, lemon zest, chili pepper and I had lemon grass growing in my garden, so it also joined the party. (Those are kaffir lime leaves, oh so optional.) The photo shows one large garlic clove, but I added two great big, fat ones.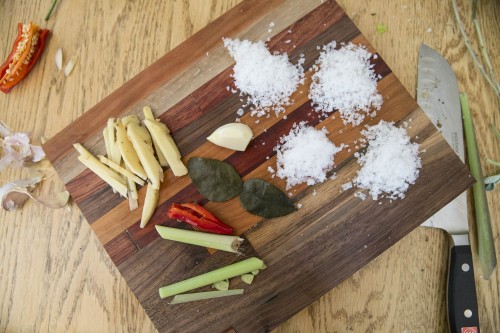 Chop chop chop, until it looks like this.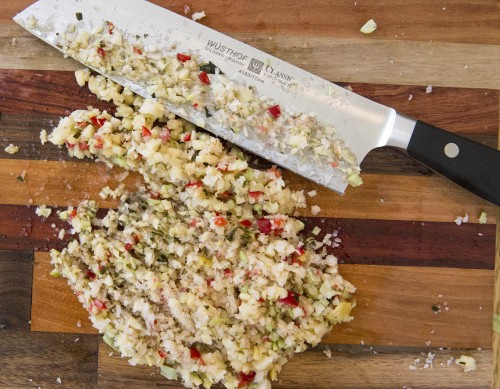 Then sprinkle on a parchment lined cookie sheet and allow it to dry at room temp. for a couple days. This one takes a while to dry out. You can turn your oven on to 170º and once it warms up, turn it off and put your garlic mixture in until it's dry.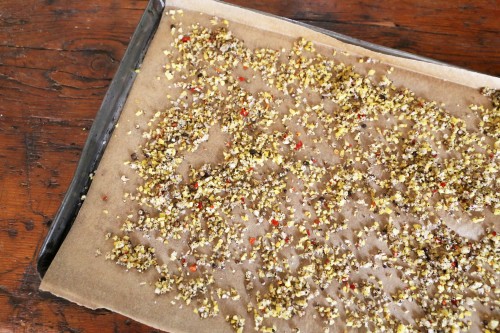 Now, the smoky salt. Oh mercy me it is so good! Garlic, smoked salt, smoked paprika, and dried chipotle peppers. If you don't have dried smoked chipotle peppers, some sort of hot pepper will do. Chop the salt with the garlic and then add the other ingredients. I recently found some smoked black pepper and tried that with success. Use just a little and crack it first. Penzy's has a nice smoked paprika. You can also find a so-so version at Trader Joe's.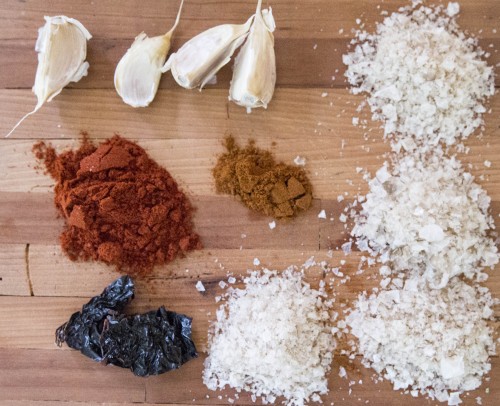 Celery and herb salt blend is next in line. Garlic, salt, chives, fresh celery leaves, parsley, red pepper. I love this blend.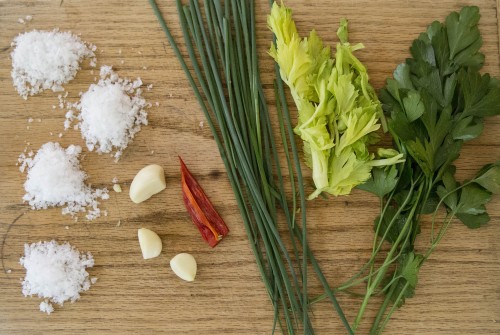 It looks like this when dried.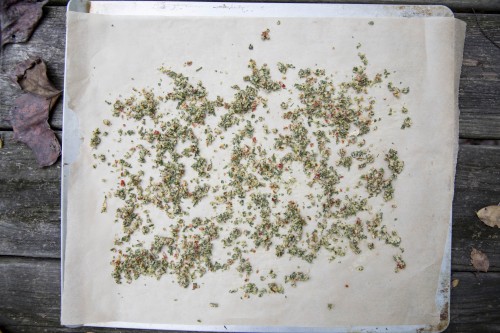 And last, my favorite salt I use on everything … is the Tuscan herb salt. Splendid table did a version of this one with a great little video. You'll need rosemary, sage, red pepper, a little lemon zest if you like, garlic and salt.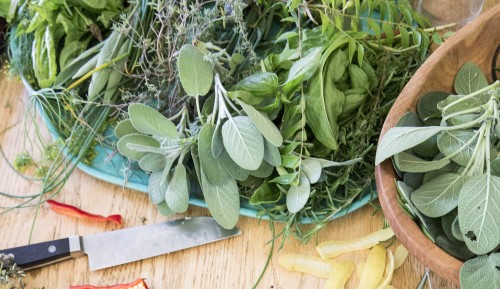 And it looks like this when it's finished.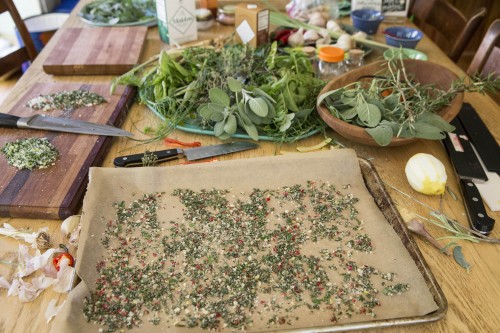 And then, of course, you need some little bitty salt spoons. Notice the tiny orange spoon on the left. I made it from a carrot. Yep, a carrot salt-spoon. I took a carving class this week where I made the very extremely primitive spreader knife because what I want to carve is little salt spoons. I poked myself with the point of the uber-sharp carving knife more than once, so I thought I'd practice with this tiny gouge knife on a carrot before making a mess of the real thing + moi. I kinda am having fun with veggie spoon culinary fantasies.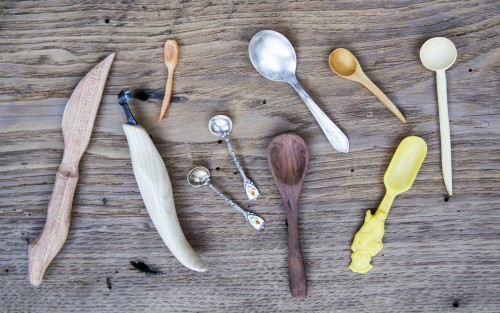 And then, finally, you can put your herb salts in tiny glass jars … make a sweet crafty label and tie on a tiny spoon and there you have it. You will be so popular that come February, your gift recipients will be bugging you to make them more salts!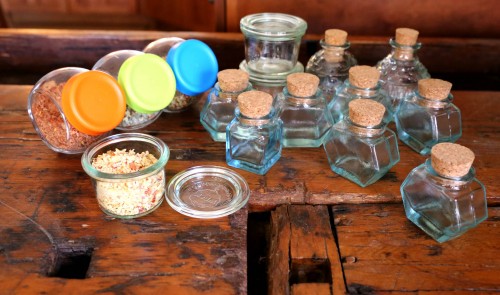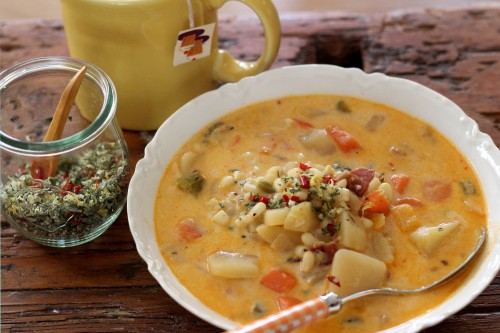 Herb Garlic Salt Blends
2014-12-12 22:53:13
Ingredients
GINGER GARLIC SALT: 4 medium cloves garlic, 4 Tbls. coarse salt, 2 or 3 strips lemon zest, about 2 Tbls. ginger chunks, fresh or dried chili to taste, few grindings coarse black pepper
SMOKY GARLIC SALT: 4 medium cloves garlic, 4 Tbls. coarse salt, 1 Tbs. smoked paprika, 1/2 dried chipotle pepper if you have one or hot chili pepper to taste
CELERY HERB GARLIC SALT: 4 medium cloves garlic, 4 Tbls. coarse salt, handful of fresh chives, parsley and celery leaves, hot red pepper to taste
TUSCAN HERB GARLIC SALT: 4 medium cloves garlic, 4 Tbls. coarse salt, 1 strip lemon zest,
up to 1/2 cup total of fresh sage, rosemary, and parsley (not basil, it turns dark)
Instructions
Chop garlic and salt roughly. Add remaining ingredients and chop until well combined and finely diced. Sprinkle onto a parchment paper lined cookie sheet and air dry a day or two until crumbly and completely dry. If it's being poky, then heat your oven up to no more than 200º, turn it off and let the garlic salt sit in there with the oven door closed. Don't bake the mixture!
When super dry, place in a festive glass jar, lid on.
Log Cabin Cooking https://logcabincooking.com/