July 4th is my birthday and this is the "cake" I made for our birthday dinner. Friends suggested that I post the recipe and so I thought I'd share my version/not-recipe of this ice cream sort of cheesecake. And then, I got to thinking about how most of the recipes/foods on this blog are pretty much pie or some sort of dessert. Which led me to ponder what that's about since (and this is the confession part) I don't even care about eating pies or cakes or ice cream. And actually, the thing I like best about dessert is what I eat right before I eat dessert, knowing that I need to not fill up so I have room for the dessert.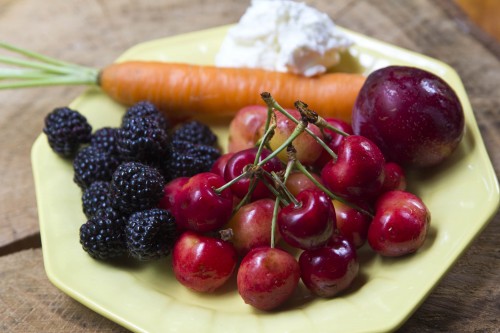 Which looks something like this lunch from my garden and friends from the local tailgate market. (Hmm, this fruit plate looks like dessert already! It was a productive fruit day in the garden.) There is one more piece of the frozen cheesecake left which I will probably just pass to Wayne because I'm over it already. Even though it was fantastic. The truth is that I love the process of cooking, the art, the alchemy, the gardening and shopping and the gathering of loved ones at the table and I want to feed you. Good foods, healthy foods, foods that do not include blobs of pork belly. And, I love and appreciate your healthy appetite because I just don't have one. A plate of veggies fills me up and I have to be selective about my abdominal real estate. But I will be happy to make this delicious frozen yogurt "cake" for your birthday! The inspiration came from my new favorite cookbook.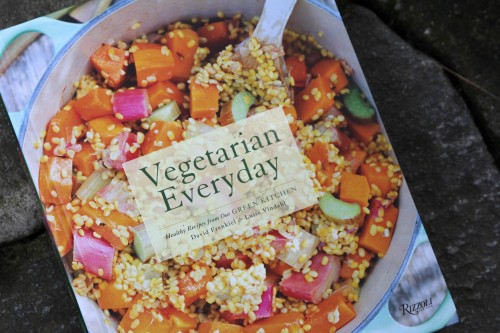 Which was written by a young couple, David Frenkiel & Luise Vindahl, who live in Sweden and write the green kitchen stories blog. I especially appreciate that there is not one single recipe for pork belly in their book or on their blog. Who gets to eat pork belly, really? Sorry. Anyway, their recipes are super produce-driven and creative with lots of wheat alternatives that I love, like the crust on this pie/cake, made from dates, and crunchy toasted sunflower seeds. In fact, this "crust" is so good, I think next time, I'll just skip the innards and make little cookie bars out of the crust ingredients.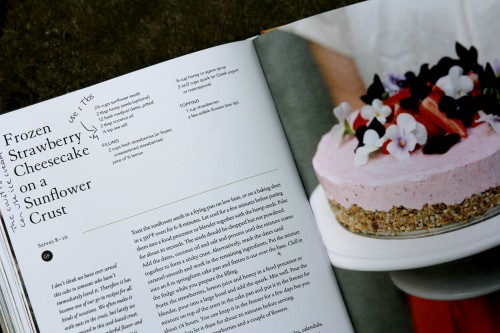 I'm not sure what the etiquette is about sharing this recipe with you out of their beautiful, brand new book. I recommend you buy it, and I'll point you to a similar recipe on their blog and tell you how i adjusted it to suit what was on hand at our house. For the filling, I used a combination of all the white creamy stuff that was left in our post pie contest fridge, which was basically a mixture of ricotta, greek yogurt and cream cheese.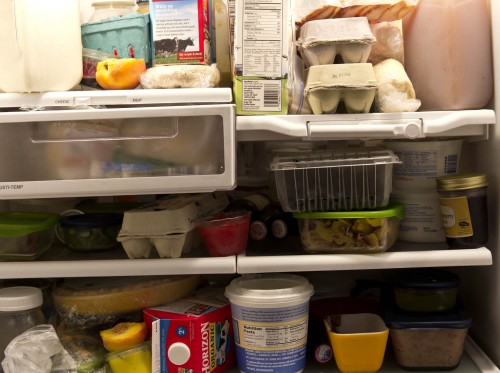 I had just harvested 3 pounds of red rhubarb from my garden to make into my beloved rhubarb butter, and just pilfered a couple cups to flavor the filling. For the crust, the authors recommend sunflower seeds and 12 medjool dates, etc. What I noticed is that here, in North Carolina, far from wherever medjool dates grow, 15 of them cost $7.75. WHAT??? It remains to be seen if you can sub the less expensive version, but i say go for it. The recipe sounds complicated, but it's a snap if you happen to have all the ingredients prepped. Next time, I'll just make the lighter version using all greek yogurt because this dessert is one of those things you have to keep evening up.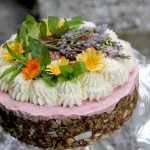 Frozen rhubarb yogurt cheesecake
2013-07-08 21:23:08
Ingredients
Crust
2 1/2 cups of a combination of toasted sunflower seeds, sliced toasted almonds, and toasted coconut chips (Trader Joe's) or any other sort of toasted coconut
12 medjool dates or about 15 packaged pitted dates
pinch of salt
1 Tbs. coconut oil (you can probably omit if you don't have it or use other flavorless oil)
Innards
2 cups greek yogurt or a combination of yogurt, softened cream cheese, ricotta if that's what's in your fridge after having 14 people bake pies in your kitchen
Juice and zest of a little lemon
2 cups sweetened rhubarb sauce (cook about a pound of rhubarb on low heat with a 1/4 cup sugar or honey until it thickens) Taste, and sweeten to suit yourself
Instructions
Toast the sunflower seeds & sliced almonds in a 350 oven until lightly toasty and allow them to cool (in the freezer of course, who plans ahead?). If using coconut, toast that separately as it burns very quickly.Whirl the dates in your food processor until mushy and add the oil. Pulse the seeds, nuts and coconut plus about 1/4 tsp. salt until mixture comes together. Now prepare an 8 or 9 inch springform pan like this: Cut a circle of parchment and put it on the bottom of the pan. Then, cut a strip of parchment the height of the sides and line the sides with it (butter the edges of the pan so it will stay put.) Make filling: Sweep out your food processor bowl and add the white creamy ingredients and give them a good whip. Add the lemon juice and zest and the pureed rhubarb (you can sub other summer fruits as well). Sweeten to taste, but don't make it too sweet because the crust will be sweet from the dates. Press the crust ingredients into the pan and up the sides a bit and then add the innards, being sure to keep the parchment strip on the sides in place. I layered a bit of the rhubarb puree with the creamy innards for sport. Now stick your cake/pie in the freezer for at least 2 hours until firm. Unmold, and doll it up. I also had some whipping cream left over from the pie frenzy, so i whipped that up with some rum to squirt on the top, nice touch. Allow the cake to thaw at least 30 minutes before slicing.
Adapted from Vegetarian Everyday
Log Cabin Cooking https://logcabincooking.com/