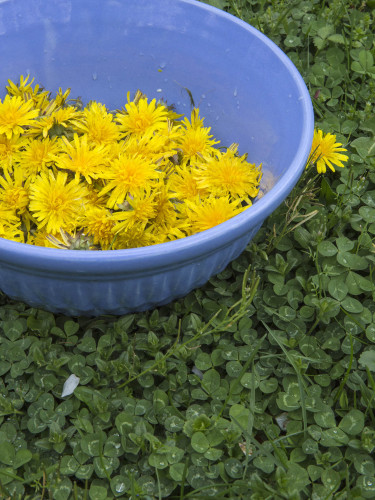 There's a dandelion emergency pending, ya'll. Our cheery yellow polka-dot pals are about to get the perkiness froze straight out of them tonight here in the mountains. So I suggest you run outside and pick as many as you can, just in case, because you don't want to miss a chance to make this spritz.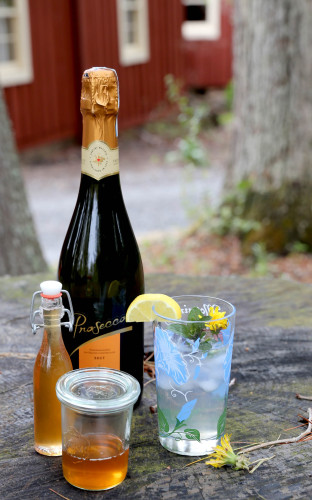 I have a recipe in my Garden Supper Tonight book for Dandelion Honey, which I learned from our Bohemian friends, Martin and Denisa. They live in a little village just north of Prague with their two kids in a fairy-tale cottage that sits on the edge of a forest that is enchanted with wild edible mushrooms. Martin plays, teaches, writes books about American Appalachian old-time music … in the Czech Republic. Listen to him play the banjo here to get you in a dandelion mood. In the photo below, he's on the right playing his banjo and Denisa is playing the guitar. I could talk forever about this wonderful and talented family, but we need to get our dandelions tended to.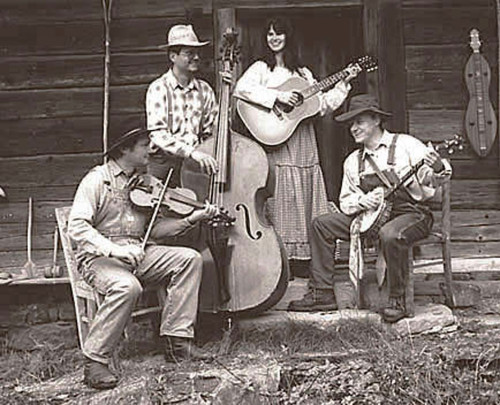 Here's Martin's voice describing the Dandelion Honey recipe that he and Denisa make every spring:
"This is a traditional recipe passed down from the old-world Europeans. We use it as a substitute for honey in any recipe that I'm trying to make wild." What Martin means is that this delicate floral-flavored syrup tastes of the outdoors … an unmowed yard teeming with dandelions and wild violets, morel mushrooms laying in ambush in the woods, and cherry blossom petals swirling in the breeze, which by the way is a bone-chilling breeze at the moment.
To make the Dandelion syrup, you pick as many flower-heads as you can 100-200 is a good amount at a time. There are about 150 in this bowl.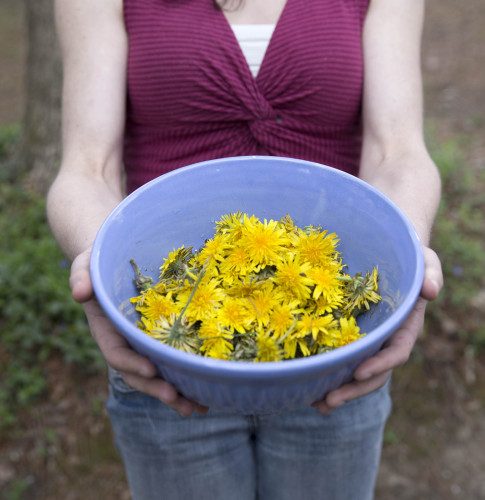 Pinch the flowers out of the green lower leaves, and measure out the petals only. Don't worry if you get some green leaves in with the petals. "They" say these will make your syrup bitter, but a little bitter is the taste of spring and it goes perfectly with a Prosecco spritz. The recipe particulars are below, but basically you infuse water with the petals overnight, strain in the morning, add sugar and reduce liquid by half. You can simmer it super slowly like Martin suggests, in order to keep the color pale; or you can do as impatient Barbara does and boil the heck out of it for 30 minutes and it's light amber. Slow cook it if you want it to be the color of honey. A spritz doesn't care as long as it's not scorched.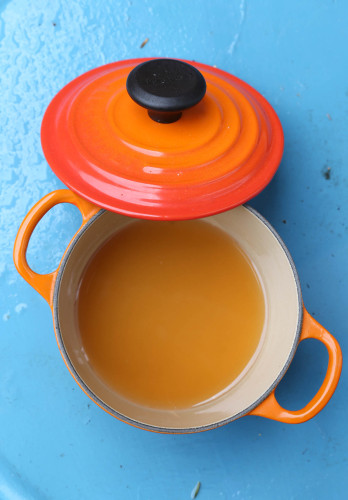 The syrup will keep refrigerated for at least a couple of weeks. To keep for longer, make into ice cubes, which you can remove from freezer and plunk into your summer drinks. To make an alcoholic dandelion honey cordial, add a cup of vodka to every cup of cooled syrup. This will keep indefinitely in the refrigerator.
To make your spritz, pop open a bottle of chilled Prosecco, Cava, dry white wine, or fizzy water. Add a tablespoon or so of dandelion cordial to each glass, top with Prosecco, lemon wedge, a dandelion or mint spring and keep your fingers crossed that our fruit trees don't get frostbit!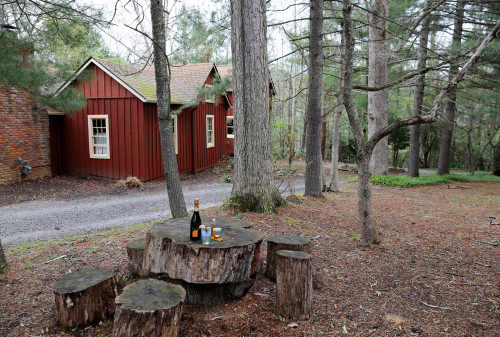 Dandelion blossom honey spritz
2014-04-15 14:13:41
Ingredients
2 cups dandelion petals from about 150 dandelion flowers
2 cup boiling water
1/2 cup sugar
1 small organic lemon (or orange), optional
Instructions
Boil the water, stir in the dandelion petals, then turn off heat. Add the juice of the lemon and throw in the shell. Pour cooled mixture into a quart jar and refrigerate overnight. Next day, strain out the dandelion parts and to each cup of liquid, add a half-cup of sugar. Simmer until reduced by half. At this point it will start to bubble like crazy, stop at this point, or you will scorch your syrup. Pour syrup into a dish-washed or sterilized jar. Keep in the fridge up to two weeks or freeze into separate ice cubes.
To make a Prosecco spritz, add a tablespoon of dandelion blossom honey to each glass of prosecco or other white wine or seltzer. Garnish with lemon, bug-free dandelions, and a mint sprig.
Log Cabin Cooking https://logcabincooking.com/