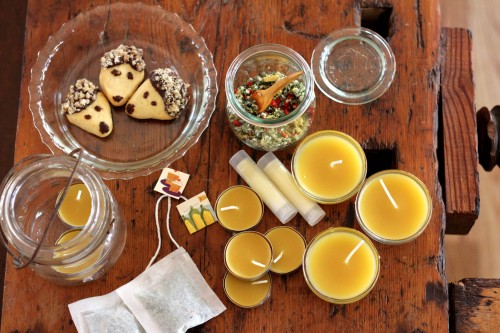 A few girlfreinds, a few bottles of wine, warm soup and fresh baked bread, dried herbs and garlic from my garden, my neighbor's fragrant Haw Creek honey beeswax = a frantic, frenzied hot mess of creative cacaphony + fun.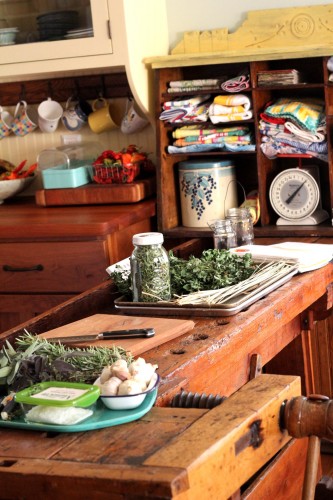 I was very organized to start … with stations set up at the toolbench counter … herb salt, creamsicle (actually more like orange pixie stick) lip balms, my sister Janet's hedgehog cookies, spearmint/lemongrass/lemon verbena tea bags, garlic salt, beeswax tea lights & hanging canning jar lanterns.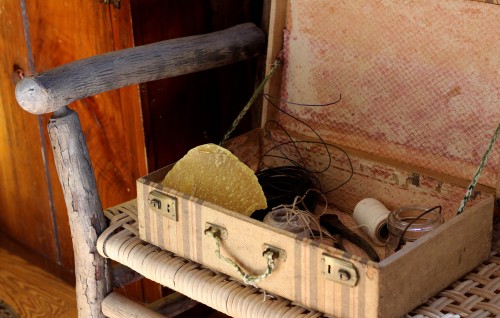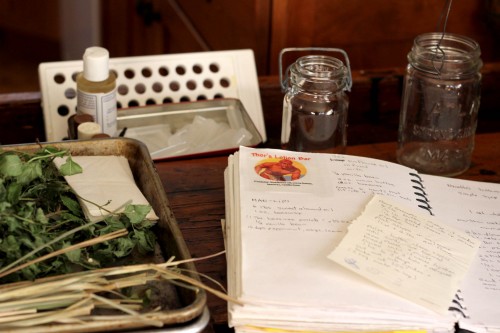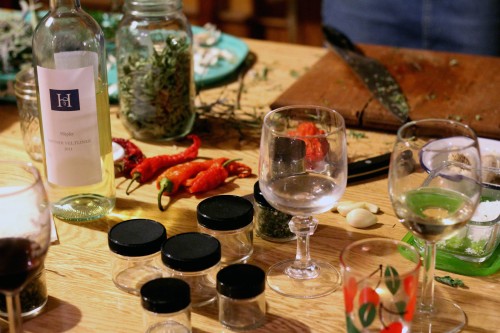 And then as soon as we ate and sipped our wine, and blabbed and cut up, this happened. You can't hear us, that's good.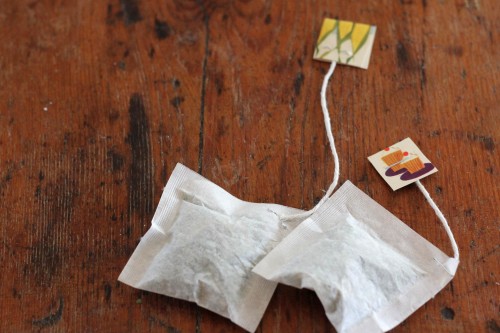 Tea bags are simple and fun. I dried spearmint, lemon grass, and lemon verbena from my garden, but you can use any combination of herbs that you like. A chai blend is extra good. Tea bags you can buy at a tea store, organic market, co-op. You fill them and iron shut with a little kitchen twine and a gift tag made from last year's xmas cards, vintage book covers, photos, etc. Knot the string if you don't want to compost staples.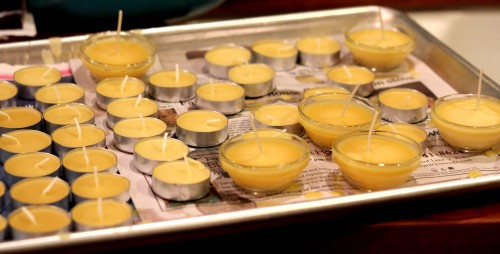 For the tea lights, I found it much less expensive to buy a couple packs of cheap tea lights, then we popped out the creepy wax and re-used the foil container and wick. The little dishes are Anchor Hocking bowls for a buck at the kitchen store.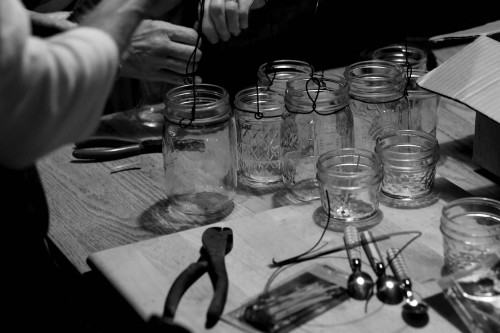 For the lanterns, we took canning jars of various sizes and twisted wire (left over from stringing up my garden beans) into perky, rustic handles. Pop in a beeswax tea light and you're good to go. Vintage canning jars are divine, but any old jar with a rim will do.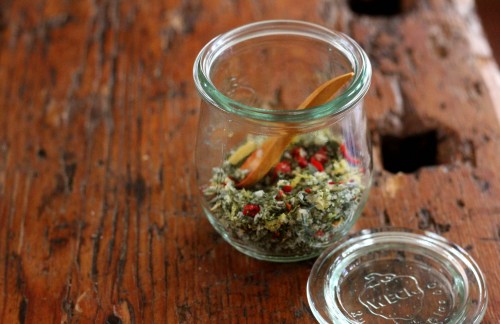 But what I'm most excited about is the garlic herb salt which I can't stop eating/making. Cutting down on the salt of my next batch so I don't have to drink two glasses of water at 4am anymore.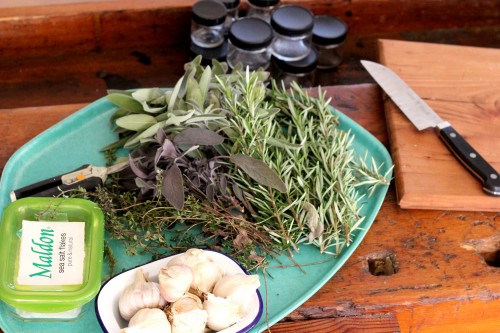 Chop together rosemary, sage, garlic, teensy sliced red peppers, and lemon zest along with a bit of Maldon or other crunchy salt. Chopping the herbs along with the salt insures a fine texture. You can buy Maldon salt at organic or specialty food markets (I found it at Fresh Market in Asheville) and it's a whopping $8 for a box that will last a year and make you very happy. The smoked Maldon salt is my favorite. You can switch up the herbs, but rosemary and sage remain green after the freezes we've had and even though I don't even (use to) use them that much, this combination is fab on everything. Spread the mixture on a cookie sheet to dry a couple days and loosely fill little decorative lidded jars.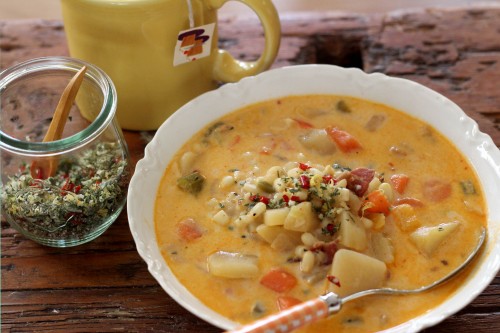 Season your soups with the garlic/herb salt …. mix it with pungent green olive oil for your fresh bread dipping pleasure … eat it by the teensy spoonful (my daughter, Rita, brought me the spoon from Peru, but you can carve your own pretty quick). I'm giving a jar to all my friends so I'm not the only one with garlic-breath! You better make a bunch.