Welcome to How to do Things Thursdays!
If you were to walk into my kitchen in early November, what you would see is apples. The gnarly red ones that fall from the overgrown antique trees in our lives as well as about 80 pounds of magnificent GoldRush apples that I order annually from my apple-loving friend, Andrew. They are in the dehydrator being dried, simmering on the stovetop as apple butter, and in a slow oven en route to becoming sliceable apple walnut membrillo. And, yes always the apple pies.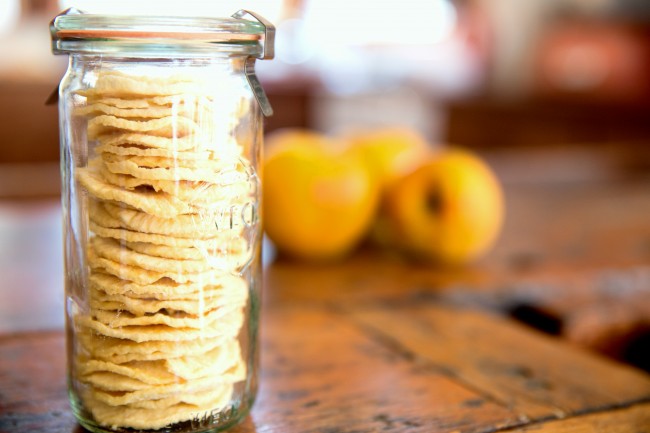 Come February, the GoldRush apples are shrunken, withered glorious globes of concentrated apple heaven that need to be salvaged before going bad. Which is my current project. So probably much to the horror of the writers of How to Do Things, 1919, I'm transforming them into a boozy apple pear mince pie filling. And I do mean boozy.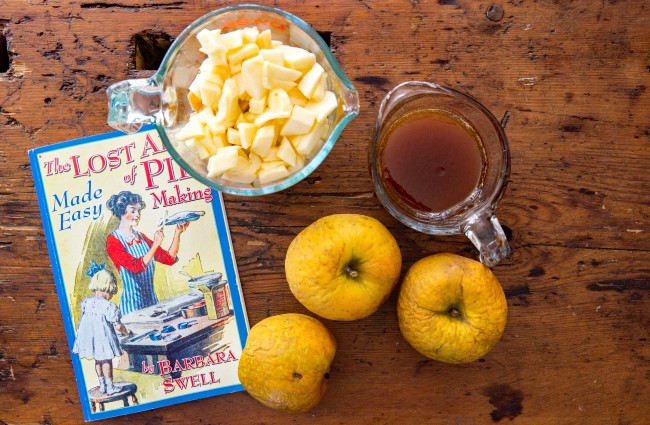 Our project starts with "boiled cider" which has been a thing on internet food sites for the last 10 years or so. But guess what? Cider syrup has been around for at least 100 years ever since the Dept. of Agriculture declared apple table syrup an amazing discovery and Farm Journal picked up the story in their How to do Things book. Woo hoo! Kinda cool actually for farmers who gained another way to make use of culled apples that would otherwise go to waste. The folks at the Farm Journal published their book in the midst of WWI sugar-rationing, so products like syrup and apple jelly made from boiled cider were especially appreciated. Additionally thrifty was their suggestion to add calcium carbonate to the cider which caused the malic acid in the juice to form filterable crystals that could then be sold at a whopping $2 a pound for medicinal purposes.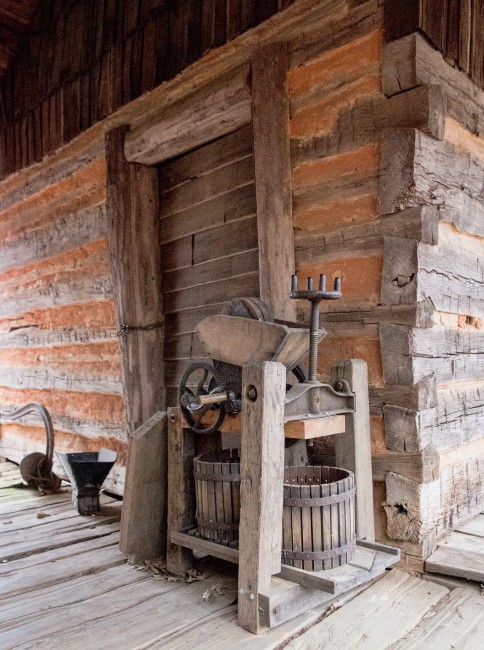 If you haven't made cider syrup, oh, do so! It will change your life. Boiled down 7 or 8:1 or so, you can use the thickened syrup to sweeten apple pies, cheesecake, cabbage slaw, sweet potato casserole, gelato and pretty much anything. Don't tell anyone, but I don't much care for sweets. However, a bit of cider syrup does add a bit of mysterious complexity to foods that would otherwise be overpowered by more aggressive sweeteners. Like sugar for example (!)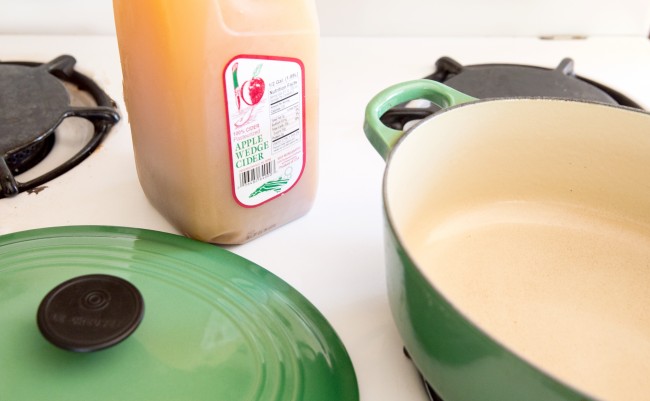 Find a half gallon of good (preferably local) apple cider and simmer it for about 45 minutes. Remove the scum as it appears.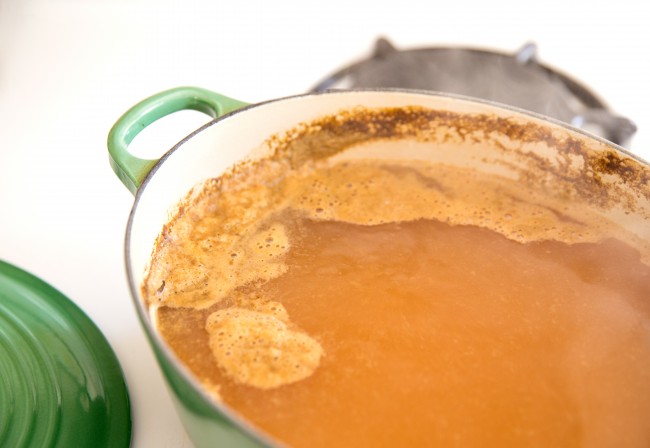 Boil the cider until it forms bubbles that cannot be stirred down. It goes from not ready to overdone quickly, so keep an eye out.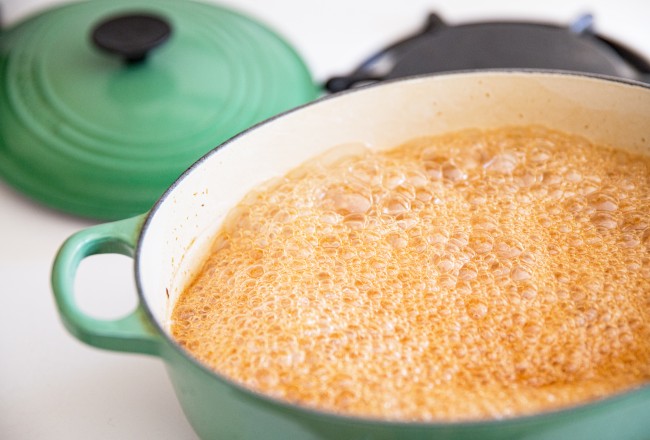 You'll have about 1 cup of thick syrup which you can refrigerate, freeze, or water bath can to use all year.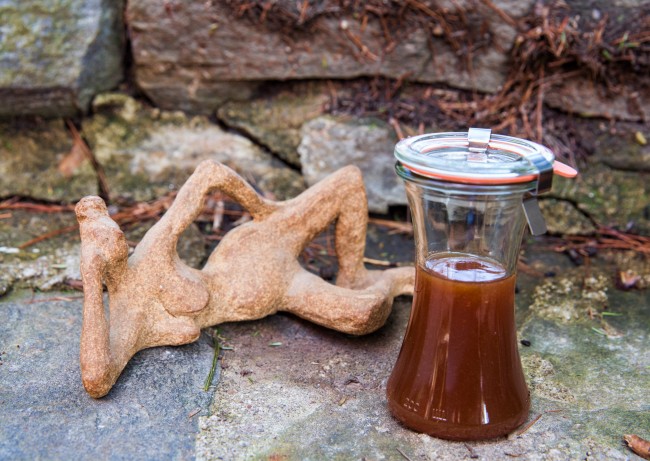 We're going to use a bit of it make our boozy mince pie filling. By the way, did you know mincemeat pies have been around for a thousand or so years? Filled with the fruits, nutmeats and animal bits of fall and doused liberally with whiskey for preservation purposes, these pies were a 19th century hungry farmhand's best friend.
To make the pie filling, you'll combine all the finely chopped ingredients and cook about 30 minutes until there's about this much juice left in the bottom of your pan.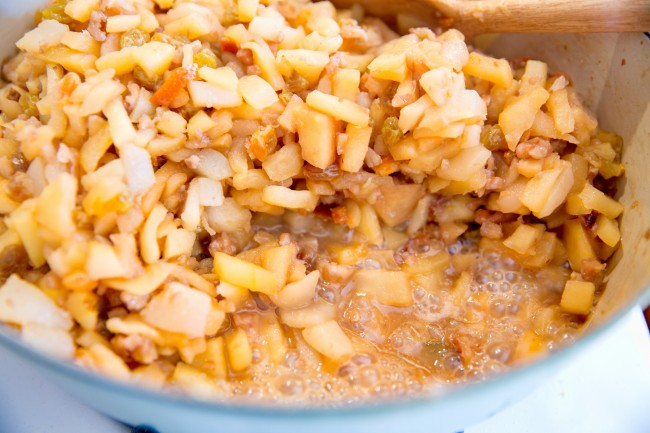 Once the apple/pear mince cools, you can use it for pie filling … I recommend a two crust pie with about 3 or maybe 4 cups filling. It's powerful stuff. Or you can freeze for later in quart jars.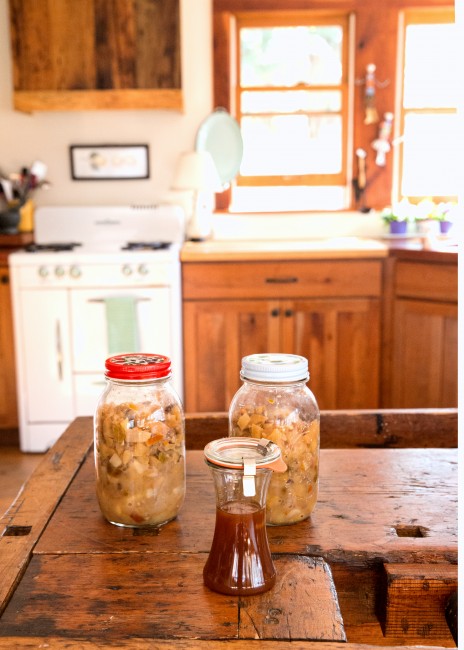 For last week's vintage typewriter repair party, I made absolutely wonderful apple mince filled gingerbread mini-muffins.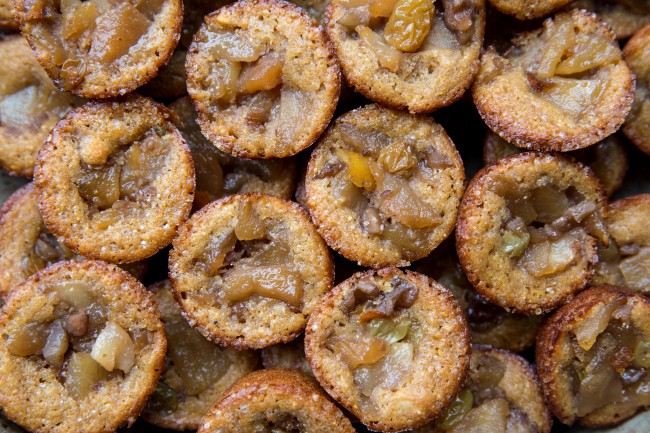 And speaking of vintage typewriter repair parties, that's the subject for an upcoming how to do things post. Meanwhile up next week is my daughter, Annie, who will be guest-posting about learning to blacksmith. Stay tuned!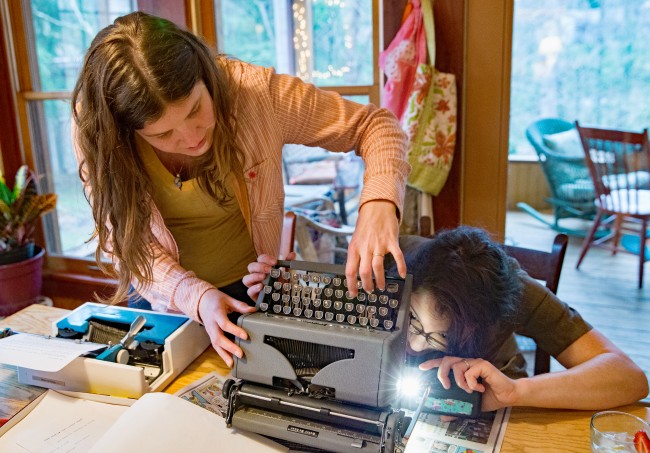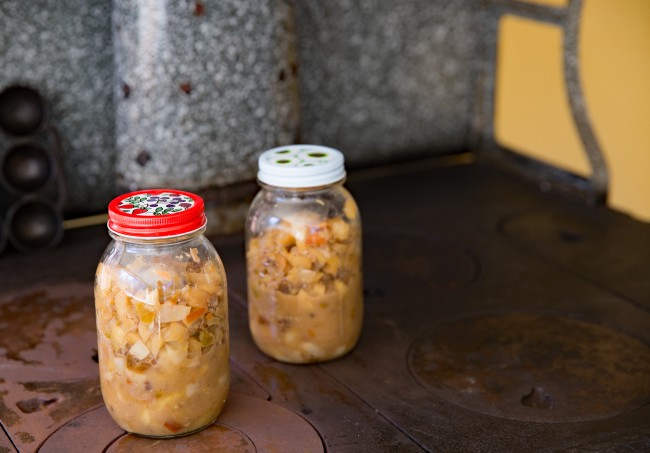 Apple/Pear Mince Pie Filling
2018-02-28 20:20:53
Ingredients
31/2 pounds mixture of apples and pears (use tart apples that hold their shape and about three sweet pears)
1/2 cup white wine, apple cider or water
1/2 cup currants
1/2 cup golden raisins
1/2 or more chopped toasted walnuts
zest and juice of one large or 2 small lemons
4 or more tablespoons bourbon or brandy
pinch of salt
1 1/2 tsp. cinnamon
1/2 to 1 tsp. ginger
pinch each of nutmeg, cloves, allspice
2-3 Tbsp. cider syrup
Orange marmalade to taste (up to 4 Tbsp.) My winter apples are so sweet, I omit and just add orange zest *See discussion below
Instructions
Chop the apples and pears up into small pieces and place in a non reactive saucepan. An enamel-lined cast iron pan like Le Creuset is ideal, just not aluminum or cast iron. Add the wine and bring to a gentle boil. Add the remaining ingredients and simmer, uncovered, about 30 minutes or until the fruit softens, holding its shape and the mixture is thickened but is not dry. There's enough filling here to make two 9-inch double crusted pies. Freeze unused filling up to a year.
Notes
Fragrant with warm winter spices and boozy to boot, you'll be glad to have a jar or two of this pie filling on hand safely tucked into your freezer. My friend, Jennifer Thomas, both artist and pastry chef developed this recipe based on the flavors of New England where she was raised. I've adapted the recipe to include cider syrup as the sweetener. Bear in mind that I have no palate for sweet foods. I use my old wrinkly late winter GoldRush apples for this filling and they are super sweet and not at all juicy. Add enough wine, bourbon, cider or water to the apples so that they have liquid enough to simmer. And please, sweeten to your taste and the personality of your apples. Some sort of candied citrus peel is traditional in mince pies, orange marmalade is a nice substitute. A splash of orange liqueur like Cointreau is also fun. Start with cider syrup and then add the remaining sweeteners as the apples cook down a bit. Don't fret if you don't have all the ingredients as long as you have the approximate amount of fresh fruit ... this is make-do cooking!
***For apple/pear mince gingerbread cake or mini muffins .... Make your favorite gingerbread cake recipe and drop spoonfuls of mince filling to the batter once it's in the pan. Bake as usual.
Log Cabin Cooking https://logcabincooking.com/