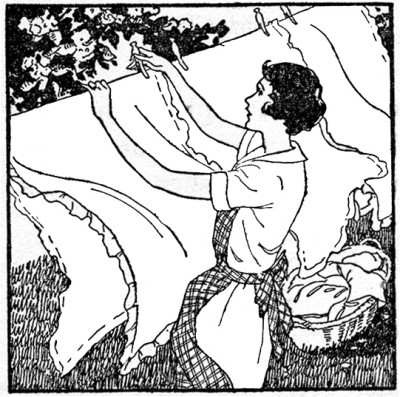 "If these sheets were any crunchier they would stand up and walk out of the room" declared Wayne as he climbed into bed last night. A high complement where I come from, that's just how we like 'em. Crispy with the lingering scent of the outdoors from an afternoon spent out in the sun. Wait! Don't leave! I know you've heard it all before about how you ought to save fuel and avoid using your dryer, blah blah blah. I just think there's still one teeny little thing we need to talk about when it comes to clothesline-dried laundry… soft vs. crunchy clothes. A couple of my environmentally-minded friends asked me recently how I get my outside-dried clothes and sheets to be soft without using dryer sheets. Well, I've never used a dryer sheet so I went to the grocery store to do a little research, and it turns out there are a bazillion brands of the things promising static-free, fluffy, ocean breeze scented laundry.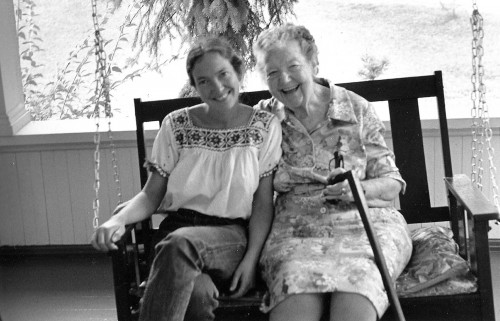 But I live for crunchy laundry. Scratchy towels wake me up and there's nothing like wiggling into a pair of stiff-as-cardboard jeans. It all started with my grandmother, Maudie. She lived within walking distance of small-town Salem, WV. A passionate gardener of flowers and vegetables, she lived an old-time, make-do rural life and I adored everything about her. Especially, I loved laundry day when we'd venture into the nether-regions of her basement and crank up her wringer-washer. In the 1960's, this was a big thrill for a suburban kid such as myself. We fed the rinsed clothes through the wringer-rollers and they'd come out flat as a cartoon road-runner. We'd shake them out and hang them on the line outside if it was sunny, or on her giant screened-in back porch if rain threatened. Come bedtime, I'd settle into those crisp, delicious-smelling Bellair "sturdy cotton" sheets and dream of lightening bugs, roller skating and chicken pie. Oh, did I ever dread coming home to the easy-care, no-iron permanent press sheets that my mother so appreciated.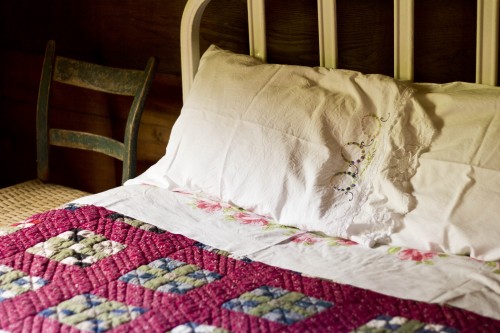 Grandmother passed away in 1987 at the age of 94, and guess what I wanted to remember her by? You guessed it; those crunchy cotton sheets. They've since gone to that great clothes-line in the sky themselves, but I have figured out how to replace them and that's what I'm sharing with you today. But first, I just want to say that if you fall in love with crackly, sun-dried, un-treated cotton textiles; then the "chore" of hanging, taking down and folding your laundry becomes a slow pleasure that you'll be happy to make time for whenever you can.
Shopping for great line-dryable sheets and towels:
Towels: For a delightfully invigorating, scratchy towel that actually will dry you quickly, search out those that are 100% cotton and thin-ish. Vintage towels are great. Yea, they're small (like we used to be), and they dry quickly on your towel bar and the line. You can find them on ebay, etsy, antique stores, and granny yard-sales. Sheets: This is a bit trickier. I like vintage sheets that are unused. Once you keep your eyes open, you'll run into them, still in their dingy yellowed packages. And they're affordable. (At least, for now, until the vintage crunchy line-dried sheet revolution holds forth!) Look for 100% cotton and the words percale, combed percale, sometimes combed cotton and muslin. We're talkin' low thread count by today's standards, but well-made. Full-size flat sheets are 81 x 108 and twin are 72 x 108. You won't find queen or king, but I use full-size on our queen bed and twin will do for a full-size bed. I've also never found fitted bottom sheets, though they may exist. The 1970's was the beginning of the end for un-treated crispy all cotton, wrinkle-able sheets so look for those from the 60's and earlier. Brands like Springmaid, Sears Roebuck, Cannon, Penney's are all good, just be sure they're not "no-iron." Pillowcases: You can find beautiful, unused, embroidered pillowcases here and there. The best deals are in vintage shops and yard sales. These special occasion crocheted sheets and hand-decorated pillowcases were typically received as gifts, put away and then forgotten, never to be used. And they are often made of the very best sturdy cotton muslin. Single cases are often a steal; the un-matched look is my favorite!
Stay tuned for more on clothes pins and laundry hanging tips and vintage clothes-pin bags … can't wait, can you?