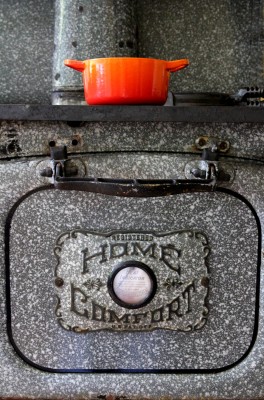 I hope you can grow tomatoes … apparently I cannot. Anymore.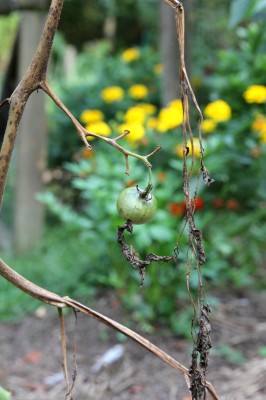 The blight of every shape and fungal form has come knocking on our moldy door this summer due to record rainfall in Asheville. Serious record rainfall. We are not the air conditioning type, but, sadly, we have become the dehumidifier type. I can't even talk about it right now. Anyway, I'm super grateful to be able to buy a big box of organic Roma tomatoes from a local farmer who's smarter than I. So we're gonna roast them for the winter cupboard or freezer. First, let's gather our ingredients.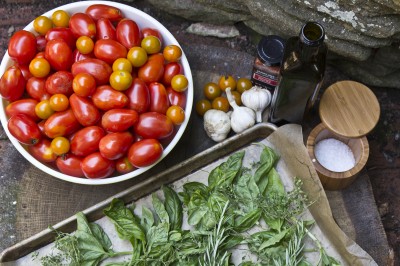 You'll need paste tomatoes, fresh herbs, garlic, coarse salt, and olive oil. And a sheet pan and parchment paper, if you have it. Lay whatever fresh herbs you have on hand in as big a layer as possible on the sheet pan. Basil stems and creepy looking leathery late summer leaves are perfect as long as they are green and not brown. Basil, parsley, thyme, rosemary, oregano, etc. are all happy bedfellows with tomatoes and garlic.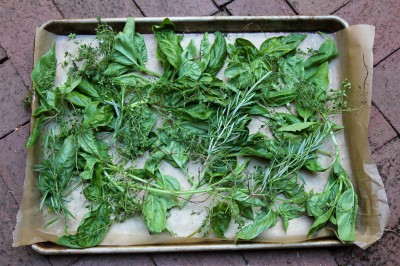 Cut your tomatoes in half and place them on the herbs, skin side down. Pack them in because they will shrink when you bake them.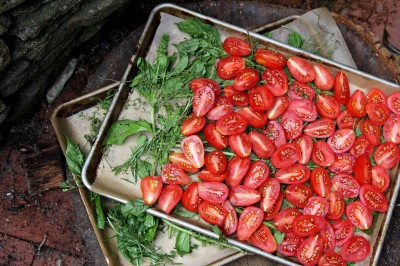 Now, we need some garlic. Smash and then mince about one head per pan, depending on your taste.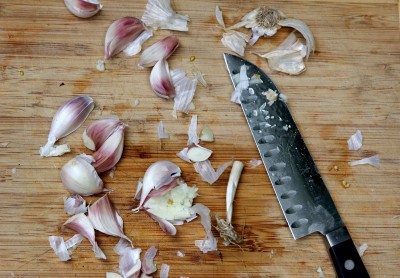 Sprinkle your tomatoes with garlic and some coarse salt. And pepper if you like. Then drizzle tiny tears of a good olive oil over all.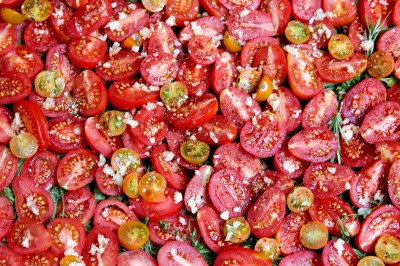 Now, find a friend who has one of these: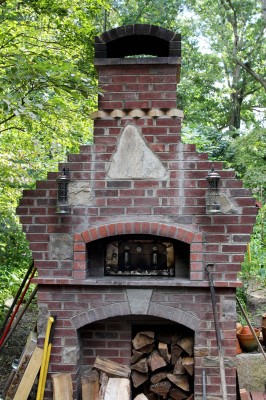 My friend, Jen, has a wonderful wood-fired bread and pastries bakery that she runs out of her home in an historic neighborhood in Asheville. She bakes on Fridays, and the oven is just perfect for slow-roasting tomatoes come Sunday. They love to bask in the radiant heat, kinda like the sun that I wish I could bask in if it ever would shine this summer!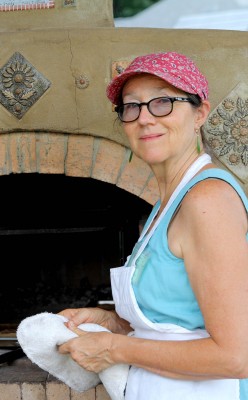 But if you don't have a wood-fired oven, fear not, these tomatoes will roast just dandy in whatever oven you have. Just roast slow and long (about 250) until they are as dry as you like. I bake them about 2 or 3 hours, depending on size, and then pop the whole (cooled) sheet pan in the freezer. When frozen, pick the dried tomatoes easily from the now-blackened herbs and pack them into jars. You can use plastic bags, but they'll keep fresh in the freezer until next spring if you store them in jars.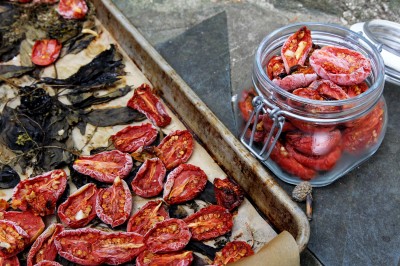 You can also continue to dehydrate and then store them in jars in the fridge or on your pantry shelf, but I'm pretty sure you'd have to leave out the garlic to be safe. Do some research if that's the direction you want to go. You can make all sorts of things with your tomatoes now, like roasted tomato with fresh corn soup.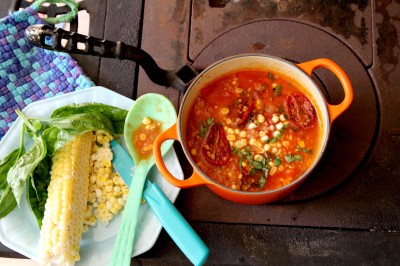 I'll post the recipe below. But just a reminder …. promise me you won't ever again throw out/compost your just sheared corn cobs. Cut the corn off, break cobs in half, and place in a saucepan. Just cover to the top with water and then simmer the cobs for at least 30 minutes. Then you can remove the cob and compost it. You'll have a lovely, rich, vegetarian broth to season your tomato chowder. I concentrate the cob broth and freeze in jars for all my winter soups. I also freeze bags of corn cobs and throw one in any relevant winter soup to simmer with the other veggies.
Guess where I learned to be a cob-boiler? From a 1887 cookbook called Quick Cooking .. A book of Culinary Heresies!!!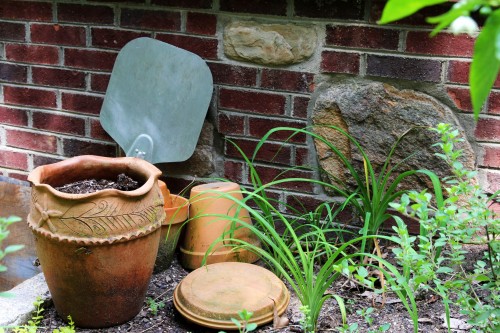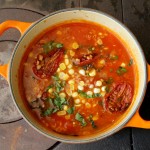 Roasted Tomato and Fresh Corn Chowder
2013-08-27 21:52:22
Ingredients
A handful of roasted tomatoes
Fresh tomatoes
A red bell pepper, diced
Corn on the cob
Onion and garlic
Smoked paprika if you have it
Corn cob broth
Fresh basil
Smoked cheddar
Instructions
Make-do directions: Saute a chopped onion and the bell pepper in about a teaspoon of melted butter in your favorite orange saucepan. Add some chopped garlic. When that smells nice, add about 3 or 4 big chopped tomatoes or a bunch of the Romas that you didn't roast. (Or a can if it's winter and that's all you have.) The tomatoes will release their juices and the skins will float off. I pluck out the skins. If you have a stick blender, give this mixture a rough chop. Otherwise, find some way to squish the tomatoes. Add corn cob broth until it's the consistency you like (see the roasted tomato blog post for directions). Now add a handful of roasted tomatoes and a cob or two of fresh corn and season with salt and lots of fresh-ground pepper. A dash of smoked paprika does not harm. Simmer a few minutes to marry the flavors. Serve in a yellow bowl with a fresh basil garnish and some shreds of smoked cheddar.
Log Cabin Cooking https://logcabincooking.com/