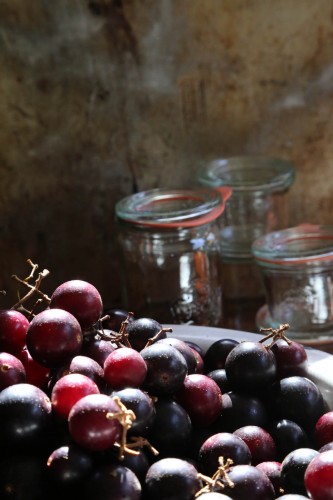 I know it might be too late now for Muscadines since it was a whopping 19 degrees outside our Asheville door this morning. But this celebrated southern native grape keeps well when refrigerated, and as of Monday, growers at the WNC farmer's market still had some baskets stashed away. If you live around the Asheville area, you really should run over there this very second and grab them … or be ready for their arrival next fall. Since Thanksgiving is truly the only American holiday that celebrates our legendary native foods, deep purple Muscadines fit in nicely, bestowing a splash of vibrant healthful bling to the festive table.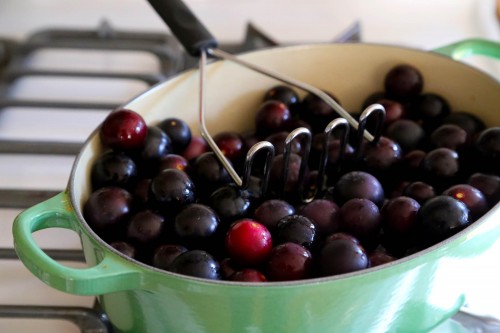 Muscadine grapes grow from West Virginia clear down to Florida, but North Carolina lays claim to the origins of this voluptuously-flavored southern belle. The bronze-skinned Scuppernong variety was discovered/found growing, by colonists in the mid 1500s. The term Muscadine refers to both the black cultivar (my particular favorite) and the greenish/bronze varieties, but most folks call the black ones Muscadines and the greenish bronze ones Scuppernongs. I'm no expert but there are a LOT of people who are, namely these North Carolinians and these.
I sauce the grapes and then water-bath can several versions of the innards. First wash, de-stem, and put them in a non-aluminum pot. This 5 quart pot holds about 5 pounds of grapes. Do NOT add any water. Squish the grapes however it suits you, the guts are green. Notice the matching pot.